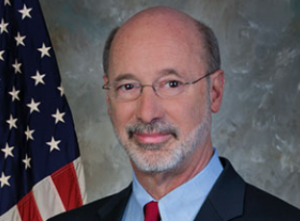 Bruce Beemer is getting a promotion.
The First Deputy Attorney General has been through a number of battles with her superior Kathleen Kane.
Beemer testified against Kane in front of the grand jury and fought against the dismissal of James Barker. He had his control of personnel decisions stripped away and was blamed by Kane for the insufficient first investigation of Justice Eakin. At one point, Beemer even rallied senior staff against a controversial decision made by the AG.
Governor Wolf, who isn't the biggest fan of Kane, doesn't have a problem with any of that. He is appointing Beemer to be the new Inspector General.
"Bruce Beemer has earned a reputation across the commonwealth as a tough prosecutor, effective administrator and thoughtful legal mind," Gov. Wolf said. "He has taken on public officials at all levels and worked to root out corruption in government. I have great faith in his ability to further the mission of the Office of Inspector General to fight waste, fraud and abuse, and working to make government more efficient and effective."

Beemer will be replacing Grayling Williams, who recently resigned. He is expected to assume the IG job on July 25th.