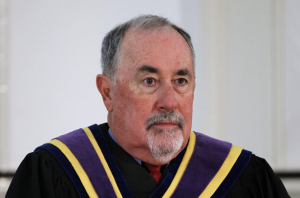 Michael Eakin took a big gamble and it looks like he may have lost.
Yesterday, Governor Tom Wolf called on the State Supreme Court Justice to resign.
Eakin has been entangled in the pornographic email mess since last year but his troubles were exacerbated by Attorney General Kathleen Kane a few months ago.
"This process is absurd," Governor Wolf's spokesman Jeff Sheridan said. "Justice Eakin's behavior is reprehensible and beyond unbecoming of an individual, let alone a Supreme Court justice."
"Justice Eakin should resign," Sheridan concluded. "The people of Pennsylvania deserve better."
It appears the Governor's new stance came as a result of a report from Craig R. McCoy, Mark Fazlollah and Angela Couloumbis of the Inquirer. They revealed that Supreme Court Justice Thomas Saylor was leading an effort along with Eakin and Justice Max Baer to appoint a favorable voice to the Court of Judicial Discipline.
This purposed attempt to influence the body tasked with deciding Eakin's fate apparently sparked the Governor's disgust.
The potential nominee in question, former Secretary of the Department of Public Welfare Karen Snider, has withdrawn her name from consideration.
It is not immediately clear where this episode will go from here.