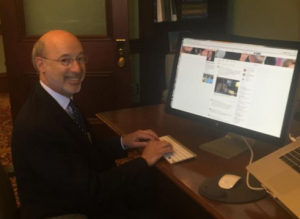 Gov. Tom Wolf took to Twitter on Tuesday for the second "Twitter Town Hall" of his term, this time fielding questions about his first 100 days in office.
Tweeting from his official Twitter account @GovernorTomWolf, Wolf answered 10 questions from constituents during the half-hour long town hall, which he announced via YouTube on Tuesday morning.
By far, Wolf answered the most questions about education — ranging from higher education, to charter schools, to his plan for the York City School District.
"My budget makes historic investments in education that will be good for all schools across PA," Wolf answered to the latter question. "As for York, I recently appointed a new chief recovery officer to work with the local school district and the community to fix schools."
Wolf also addressed two recent court actions, one in Pennsylvania and one nationwide.
The Governor answered a question about a Monday filing with the Commonwealth Court in which state regulators are calling for the court to mitigate a dispute between Highmark, Pittsburgh's largest hospital network, and UPMC, the state's largest insurer.
"I'm acting to protect the rights of seniors in Western PA. They need to work together to serve the community," Wolf wrote in response. "I'll continue to hold Highmark and UPMC accountable to serve the health care needs of Western Pennsylvanians."
The other court action Wolf commented on was without a prompt or question. Before even starting the Town Hall, the governor took a moment to comment on the Supreme Court arguments on marriage equality.
"All couples are worthy of the same dignity, respect, and protection," Wolf said. "I proudly support #MarriageEquality and LGBT rights."
Other issues Wolf answered questions on included pension for state workers and his proposed sales tax increase.
Check out all the questions and Wolf's responses in a Storify timeline below.