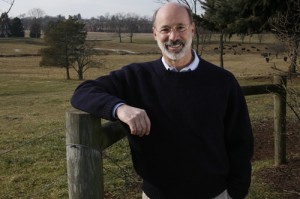 Former Revenue Secretary Tom Wolf filed 12,000 signatures to put himself on the Democratic ballot for governor.
He submitted six times the requirement for gubernatorial candidates, which is 2,000.
"Thank you to all of the volunteers who helped collect more than 12,000 signatures from more than 50 counties to put Tom Wolf on the ballot for the May 20th primary election," says a post on Wolf's Facebook page.
Wolf has now likely scored his own spot on the ballot for the Democratic primary.
His news comes mere hours after former PA DEP Secretary Katie McGinty's report of just over 5,000 signatures. Rep. Allyson Schwartz has bulldozed her competition so far with 22,000, and former PA DEP Secretary John Hanger came in with a respectable 4,600 signatures.
Not only do candidates for the gubernatorial primary need at least 2,000 signatures, but 100 signatures from at least 10 different counties is also required.
The state still waits with bated breath to hear official estimates from the campaigns of State Treasurer Rob McCord, former Auditor General Jack Wagner and Lebanon County Commissioner Jo Ellen Litz.