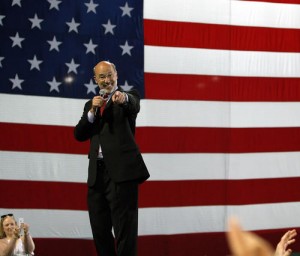 Governor Tom Wolf is about to have a little more muscle to back him up in his fight against the Republican-controlled state legislature.
With the budget due in just eight days, the pressure is mounting on Wolf to impose his own agenda, and the first-year governor has responded in force, creating a new political action committee, according to a report from Chris Brennan of the Inquirer.
Rebuilding Pennsylvania PAC will try to sell Wolf's agenda across the state, while recruiting and supporting more progressive candidates for public office.
The Governor secured the seed money for the organization by selling his shares of the family business.
"He's writing a personal check to get it off the ground," Mike Mikus told Brennan. "We expect some contributions to come in as well."
Mikus will be in charge of Rebuilding Pennsylvania, having run Wolf's former Democratic opponent – and current Chief of Staff – Katie McGinty's campaign last spring. After the primary, Mikus served under McGinty at Wolf's Fresh Start PAC.
Wolf and Republican lawmakers have been at loggerheads since the Governor's first budget proposal in March.
"The first year of a governor's term is the most important, setting the tone for what is to come," the Inquirer piece states, which has been especially true for the state's last two chief executives.
For instance, Ed Rendell didn't pass his first budget until late December after vetoing part of the budget passed by the legislature.
Additionally, Tom Corbett's decision to make cuts to education funding set the stage for an unpopular tenure.
Wolf will hope the new PAC can boost his effectiveness in office, and with the most recent poll showing his approval rating inching to 47%, this could be a make or break moment for the new Governor.