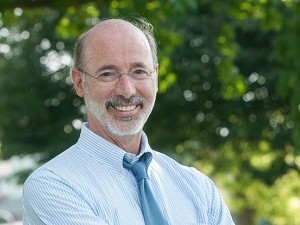 Tom Wolf wants everyone to know ethics are going to be a high priority in his administration.
Earlier this month, Governor-Elect Tom Wolf released a Code of Ethics Agreement for his transition team to sign. Now, all members of the Inaugural Committee must sign one as well.
The goal of the document is to prevent conflicts of interest and establish clear ethical guidelines.
On Monday, Wolf named former Governor Ed Rendell Honorary Chairman of the Inaugural Committee. His campaign advisors Mary Isenhour and Reid Walsh will serve as Co-Chairs.
The full text of the ethics oath is presented below:
I, ____________________, hereby agree to serve as a member of the Inauguration Committee of the Governor-Elect of the Commonwealth of Pennsylvania. In so doing, I agree that a democracy requires those who serve it to be impartial and beholden to the people. I further agree that decisions affecting governance be made in a manner as to instill the public with confidence in the integrity of their government. In furtherance of that goal, I agree to maintain the highest ethical standards in fulfilling my role as a participant in the Inauguration Committee. I further represent and warrant as follows:
I have disclosed to the Inauguration Committee any potential or actual conflicts of interest relating to my service as a participant on the Inauguration Committee. I understand that a conflict of interest would include any perceived conflict of interest or even the appearance of impropriety. Furthermore, I agree that my obligation to disclose any actual or potential conflicts remains ongoing throughout my tenure on the Inauguration Committee and that I will promptly notify the Inauguration Committee should a conflict arise or is reasonably anticipated.
I will not use my position with the Governor-Elect's Inauguration Committee for personal gain or take any substantial action affecting any matter, for personal gain or that of my immediate family or organization with which I have a substantial financial interest.
I will not use any Commonwealth personnel, resources, property and/or funds, other than for purposes directly related to Inauguration Committee activities.
I will not solicit or accept a gift, loan of money, goods, services or other things of value for the benefit of any person or organization, other than the Commonwealth of Pennsylvania, which could influence the manner in which I perform my duties.
I agree to not disclose any information provided to me in the course of the inauguration process and to consult with the appropriate Inauguration Committee executives in the event I receive any requests to disclose such information to a third party, regardless of whether said information has been specifically determined to be confidential.
I understand that my agreement to serve on the Inauguration Committee and to abide by the requirements applicable to that service may be made public. I further acknowledge that my service on the Inauguration Committee is a solemn duty, and that a failure to comport myself with the obligations hereto set forth, will result in appropriate action by the Inauguration Committee, including but not limited to my dismissal.