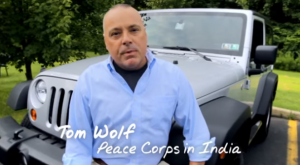 This is why you have to vet every single person.
Last week, the Wolf campaign released an ad focusing on Tom Wolf's past that was centered around the famous Jeep he drives. The concept was that other Jeep drivers would describe Wolf's record in the Peace Corps, as Revenue Secretary and as a businessman.
Buzzfeed's Andrew Kaczynski, however, found one rather embarrassing problem.
One of the actors in the video, Alan Benyak, previously starred in a pornographic film (you can click the Buzzfeed link if you want more details, we'll keep things PG here). Benyak is a former Army lawyer who actually ran for a seat on the Washington County Common Pleas Court.
Suffice it to say, the Wolf campaign can't be happy about this development. After a good week they could very well find themselves the butt of national jokes in the next few days.
Overall, I think Rick Perry says it better than any of us can:
Update: The Wolf campaign tweeted out the following response:
We were unaware of Mr. Benyak's involvement in the film, and we are making changes to the ad now. – staff

— Tom Wolf (@TomWolfPA) September 8, 2014
Update 2: As if this story couldn't get weirder, according to horrorsociety.com, SD-46 GOP nominee Camera Bartolotta was a producer on the same film. We've written about Bartolotta's film career before and the fact that she has produced films such as 2014's Pro Wrestlers vs. Zombies and 2012's Lucifer's Unholy Desire. It really is a small world after all.