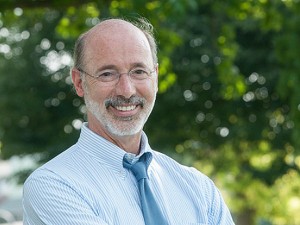 Add to the list of obvious differences between the heavily Republican legislature and Democratic gubernatorial nominee Tom Wolf the issue of abortion.
Today, Wolf made clear he would not sign a major abortion bill being pushed by the legislature.
"Tom Wolf would not sign this bill," spokeswoman Beth Melena declared. This is just an attempt to make it more difficult for women to access reproductive health care."
Incumbent Tom Corbett is widely expected to support the bill.
The bill, which was introduced last February by Republican Rep. Bryan Cutler, requires a conjunction between doctors and hospitals offering obstetrical or gynecological care less than 30 miles away from the clinic. Abortion rights advocates are up in arms, citing the statistic that only 0.3% of abortions lead to major complications, thus asserting that the real goal of the legislation is to limit access.
This legislation is primarily viewed by opponents as a creative way to obstruct and restrict a woman's access to abortions since not all doctors work within 30 miles of a hospital and many hospitals will reject reproductive care based on religious affiliation.
"They did this before with one of those ultrasound bills and that died and ugly death too," PennLive editor John Micek told Mother Jones. "As conservative as this legislature can be, it seems to me to be seized by fits of common sense."
So far the hot-button issue of abortion has been on the campaign back-burner and it's unclear whether this will force it into the debate over the next few months.