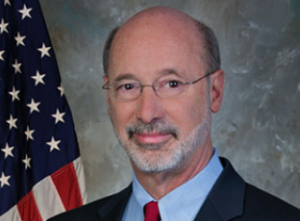 Governor Wolf announced a new appointment today.
Ahmeenah Young will serve as on the Gaming Control Board.
"Ahmeenah's business acumen, vast experience, and commitment to serving her community make her a natural fit for the Gaming Control Board," said Governor Tom Wolf. "I am confident that she will serve the people of Pennsylvania with integrity and honesty."

As noted by Joseph N. DiStefano of the Inquirer, Young led the PA Convention Center during a labor dispute.
The Governor's Office provided the following biographical information on Young:
From 2008 – 2013, Ahmeenah served as the President & Chief Executive Officer of the Pennsylvania Convention Center Authority where she was responsible for the oversight of the day-to-day operation of a facility consisting of 1 million square feet of saleable space, sales and marketing, public relations, customer service and hospitality training, and fiscal management of a $35 million budget. During her tenure, she completed a $786 million expansion construction project that resulted in more than 2,800 jobs and over two million hours worked during a recessionary period.
Prior to becoming the President and CEO, Ahmeenah held a number of various positions at the   Pennsylvania Convention Center Authority including Executive Vice President & General Manager and Executive Vice President of External Affairs. From 2003 – 2006, Ahmeenah was the General Manager of the Independence Visitors Center and from 2001 – 2013 she served as the Vice President of Corporate Diversity at SearchWide LLC where she was responsible for the recruitment, placement and retention of senior executives, particularly in the hospitality and tourism industry, municipal government, cultural arts, and transportation
The Pennsylvania Gaming Control Board protects the interest of the public by ensuring the integrity of legalized gaming through the strict enforcement of the law and regulations, the licensing of qualified individuals and entities, and fulfilling the objectives of legalized gaming in the Commonwealth to deliver a significant source of revenue, assist the horse racing industry, provide broad economic opportunities and enhance tourism.