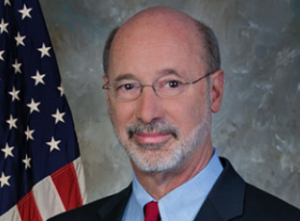 If at first you don't succeed, try, try again.
Governor Tom Wolf announced today that Col. Marcus Brown will be his Director of Homeland Security.
"The commonwealth must take every step necessary to protect its citizens from terrorist threats, and I am confident that Col. Brown's leadership and experience will be an asset to the commonwealth in this role," said Governor Wolf. "Under Col. Brown's leadership, Maryland made huge advances in homeland security and the Maryland Fusion Center (MCAC) became a national model and received a perfect rating from the Department of Homeland Security, BWI Airport was designated by the Transportation Security Administration as a national model, and the Port of Baltimore received an outstanding security rating from the United States Coast Guard. Col. Brown has proven himself as a dynamic leader in all aspects of law enforcement and I look forward to working with him in his new role as director of the Office of Homeland Security."
The Governor originally wanted Brown to be his Police Commissioner but his nomination ran into trouble when critics pounced on him for never wearing the uniform. Wolf tried to recall his nomination after it became clear the State Senate wouldn't approve him but the body voted it down anyway.
In response (or retaliation), Wolf had Brown stay as Acting Commissioner until the announcement this week of a new nominee.
Now, Brown will serve in an executive position (created in 2012) and the State Senate will have no say in the matter.
The Governor's office described the Homeland Security Director's duties as follows:
Secure the commonwealth from acts of terrorism.
Reduce the vulnerability of critical infrastructure and key resources to terrorist attacks.
Partner with the U.S. Department of Homeland Security and other federal, state, and local agencies in matters related to homeland security.
Work with the Primary State Fusion Center to develop the process of information fusion for the gathering, processing, analyzing, and disseminating of information related to homeland security.
Cooperate with the Pennsylvania Emergency Management Agency in matters relating to emergency management planning, preparedness, and response.
Participate, in concert with the private sector and other federal, state, and local agencies, in a coordinated effort to prepare for, prevent, respond, and recover from acts of terrorism.
Brown will assume the office on Monday, August 17th.