PA-Gov: Wolf Names Supreme Court Nominees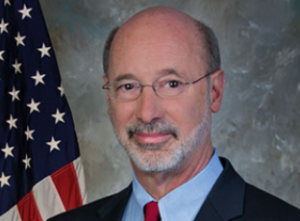 Governor Tom Wolf has announced his appointments to the two Supreme Court vacancies.
Gov. Wolf named Ken Gormley and Thomas Kistler. They will go before the State Senate for confirmation. They will serve until their replacements are selected in this November's judicial elections.
"I am pleased today to announce two extremely qualified and distinguished individuals as my nominees to serve on the Supreme Court of Pennsylvania, the highest court in the Commonwealth," said Governor Tom Wolf. "A collaborative process involving leaders from the Senate led to the selection of two nominees who I believe will execute their duties with the highest standard of ethics and judicial temperament."
The Governor's office provided the following biographical information on Gormley and Kistler:
Ken Gormley is dean and professor at Duquesne University School of Law in Pittsburgh, specializing in Constitutional subjects. He joined the faculty in 1994, after teaching at the University of Pittsburgh School of Law and engaging in private practice. Dean Gormley earned his B.A. from the University of Pittsburgh in 1977, summa cum laude, and was elected to Phi Beta Kappa. He received his J.D. from Harvard Law School in 1980. Gormley's work on a myriad of legal/historical topics has earned him a national reputation as a leading Constitutional scholar; he is also the author of a highly respected treatise on the Pennsylvania Constitution. He also served as President of the Allegheny County Bar Association, the first academic to hold that position in the organization's 137-year history. From 1998-2001, Gormley served as Mayor of Forest Hills, Pennsylvania. A life-long resident of Pittsburgh, he lives there with his wife Laura, and their four children, Carolyn, Luke, Rebecca and Madeleine.
Centre County President Judge Thomas Kistler was elected in November 1997 to the Court of Common Pleas. He currently serves as the President Judge of Centre County after serving for 14 years as a Common Pleas Judge. As President Judge, Kistler led a community process to create the Centre County Child Access Center, which opened in October 2008 to provide a location for the safe exchange of children in separated or divorced families where there is domestic violence. Twice a graduate of the Pennsylvania State University, Kistler received his bachelor's degree in 1979 and his law degree in 1982 from the Dickinson School of Law. Prior to his election, Kistler worked in private practice for 15 years, including service on the Pennsylvania Supreme Court Criminal Procedural Rules Committee and an appointment in the 1980s as an Investigative Panel Chairperson for the Judicial Evaluation Commission. A life-long resident of Centre County, Judge Kistler lives in Potter Township with his wife and they have three children.