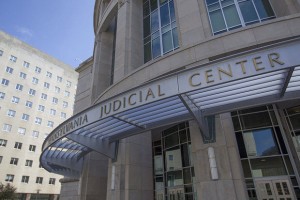 Governor Tom Wolf announced his selection for thirty judicial vacancies yesterday.
These choices were made in conjunction with Senate leaders Jake Corman and Jay Costa.
"I thank Republican and Democratic leaders in the Senate for working with me in a collaborative way to ensure these vacancies on our courts are filled," Governor Wolf said.

The Supreme Court vacancy was caused by the resignation of Michael Eakin last March.
The full list of judicial selections is presented below:
Supreme Court – Judge Sallie Mundy
Superior Court – Carl Solano, Judge Lillian Harris Ransom and Geoffrey Moulton
Commonwealth Court – Joe Cosgrove and Julia Hearthway
Allegheny County Court of Common Pleas – David Spurgeon
Berks County Court of Common Pleas – Jill Gehman Koestel
Bucks County Court of Common Pleas – Jeffrey G. Trauger
Dauphin County Court of Common Pleas – Lori Serratelli
Lackawanna County Court of Common Pleas – Julia Munley
Lehigh County Court of Common Pleas – Daniel McCarthy
Montgomery County Court of Common Pleas – Joseph Walsh
City of Philadelphia Court of Common Pleas: Stella Tsai, Vincent Furlong, Daniel Sulman, Lucretia Clemons, Roger Gordon and Vincent Melchiorre
Washington County Court of Common Pleas: Damon Faldowski
York County Court of Common Pleas – Kathleen Prendergast and Christy Fawcett
Allegheny County Magisterial District Court – Dan Butler
Centre County Magisterial District Court – Robert Bascom
Chester County Magisterial District Court – Elizabeth Curtis Swain
Cumberland County Magisterial District Court – Jonathan Birbeck
Dauphin County Magisterial District Court – David O'Leary
Lackawanna County Magisterial District Court – Bruce Zero
Northampton County Magisterial District Court – Alicia Zito
Westmoreland County Magisterial District Court – Wayne Gongaware