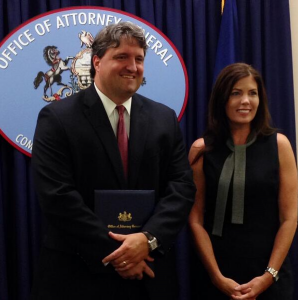 Governor Tom Wolf has nominated Bruce Beemer to be the interim Attorney General.
"Bruce Beemer has a depth of experience, he has the respect of the employees of the Office of the Attorney General, and I have no doubt that he will make this transition seamless and smooth," said Governor Wolf.
"I have spoken with Republican and Democratic leaders in the Senate, and we have agreed that Bruce is the right fit for Attorney General at this time, and I am confident that he will be confirmed expeditiously," the Governor continued. "Bruce earned a reputation across the commonwealth as a tough prosecutor, effective administrator and thoughtful legal mind, which is why I appointed him Inspector General. I have great faith in his ability and know that he will serve efficiently and effectively as Attorney General. I also want to thank Bruce Castor for his service to the office, and I wish him well moving forward."
Beemer was First Deputy Attorney General and would've assumed this position if he didn't leave to be Inspector General last month. The Governor stated that Beemer would go back to the role of Inspector General once a new Attorney General is inaugurated in January.
During Kane's trial, Beemer was among the more important witnesses for the prosecution. Suffice to say, Kathleen Kane is probably not happy about the pick.
The Governor's Office provided the following biography of Beemer:
Bruce Beemer currently serves as Pennsylvania's Inspector General, and prior to that he served as first deputy in the Office of the Attorney General of Pennsylvania where he oversaw the day to day operations of the Criminal, Civil, and Public Protection Divisions, as well as being responsible for the management of almost 800 employees.

He previously served as a deputy district attorney in the Allegheny County District Attorney's Office. After joining that office as an assistant district attorney in 1996, he worked in the Crimes Persons, Narcotics and Homicide trial units where he tried over 100 jury trials and prosecuted over 75 homicide cases. He was responsible for several gang-related prosecutions within the City of Pittsburgh involving multi-jurisdictional coordination with state and federal agencies.

In 2005, Mr. Beemer was made supervisor of the District Attorney's General Trial Units and Summary Appeals Units. He managed a group of prosecutors in the office and regularly advised city, county, and municipal police departments on legal issues relating to active investigations. He trained police officers and prosecutors on behalf of the Municipal Police Officer Training and Education Center, the Allegheny County Police Academy and the Pennsylvania District Attorney's Association.

From 2005 to 2011 Mr. Beemer was an adjunct professor at the University of Pittsburgh's School of Law where he taught trial advocacy to third year law students. He has served as a Board Member for the Center for Victims of Violent Crime.

In 2010, Mr. Beemer left the Allegheny County District Attorney's Office to engage in a private practice focused on plaintiffs' environmental toxic tort cases and white collar criminal defense. In late 2011, he was appointed Chief of Staff for the Office of Attorney General of Pennsylvania under Attorney General Linda Kelly and in 2013, he was appointed Chief of Criminal Prosecutions under Attorney General Kathleen Kane before being named First Deputy.

Mr. Beemer graduated summa cum laude in 1992 from the University of Scranton and in 1995 from the University of Pittsburgh School of Law. He resides just north of Pittsburgh in Bradford Woods, Pennsylvania. He and his wife Jodi have two children ages 9 and 7.