Tom Wolf's extensive ad campaign continued yesterday with a web video showcasing the mass support he received from Western Pennsylvania lawmakers.
The video pieces together footage taken Saturday, March 8th during an endorsement event that was held at the Allegheny County Courthouse in Downtown Pittsburgh.
"Everywhere I go, someone says, 'Have you met Tom Wolf yet?'" says Allegheny County Democratic Chair Nancy Mills. "Everybody is talking about Tom Wolf."
Like Wolf's previous ads, "Western Pennsylvania for Tom Wolf" is both eye-catching and well made. The soundtrack adds suspense — which seems a tad out of place — to the words of his supporters, including Pittsburgh Mayor Bill Peduto and Allegheny County Executive Rich Fitzgerald.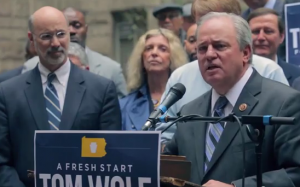 "One of the things we have been able to do [in Western Pennsylvania] over the last couple of years is really bring people together," says Fitzgerald.
Quickly picking up where he left off is Peduto: "And you need that when you're looking for a leader. You don't need someone who will be divisive, but someone who can bring people together — and I see that quality and trait within [Tom Wolf]."
"This is why I am really, really inspired to do great things because that's what they are doing here in Western Pennsylvania," Wolf says, pointing to the crowd Pittsburgh lawmakers encircling behind him.
The ad showcases how, in the words of Congressman Mike Doyle (PA-14), Wolf "shares Western Pennsylvania values."
Now that the field for the Democratic primary has thinned with the recent departures of former DEP Secretary John Hanger, minister Max Myers and Lebanon County Commissioner Jo Ellen Litz, the remaining candidates include Wolf, former Auditor General Jack Wagner, Rep. Allyson Schwartz, State Treasurer Rob McCord, and former DEP Secretary Katie McGinty.