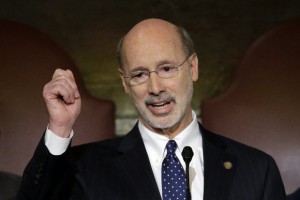 Governor Tom Wolf wants to be prepared.
Today his office announced that the Pennsylvania Department of Insurance sent an application to the HHS to create a state-based healthcare marketplace.
This step is necessary as the Supreme Court is currently hearing a case, King v. Burwell, concerning whether federal marketplaces are part of the Affordable Care Act (aka Obamacare).
To simplify a very complex issue, Obamacare was meant to create marketplaces to provide health insurance. It was decided this would be done on a state-by-state basis, but in the event some states refused to set one up, the federal government could come in and put up one in its place. Far more states ended up opting out than the Administration anticipated, thirty-four in all.
The Supreme Court case concerns a typo in the law that suggests the legislation was only meant to cover state-based exchanges. If the Court agrees with that interpretation, those 34 states would be left in a lurch. Therefore, the Governor's action is an attempt to protect PA if such a ruling occurs.
"I am continuing to take steps, as part of my contingency plan, in order to protect 382,000 Pennsylvanians from potentially losing subsidies that help them afford health care coverage," said Governor Wolf. "Yesterday, my administration submitted an application to set up a State-Based Marketplace to ensure Pennsylvanians do not lose coverage in the event of an adverse Supreme Court decision."
"I am committed to protecting hardworking Pennsylvanians from losing the assistance they rely on to purchase health care coverage," Governor Wolf continued. "These actions do not mean that Pennsylvania must set up a state-based marketplace. However, the responsible thing to do is set up a plan to protect hundreds of thousands of people and I look forward to working with members of the legislature to advance this plan if necessary."