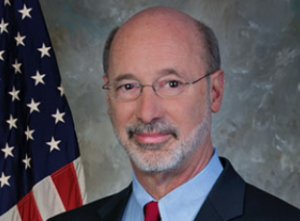 Governor Wolf revealed his severance tax plan today.
As he mentioned during the campaign, it would be a 5% tax on natural gas drilling that would seek to restore the $1 billion in cuts to education.
The Governor's proposal also includes a tax of 4.7 cents for every thousand cubic feet of gas drilled. It is modeled on the policies that neighboring West Virginia has in place.
"We can get Pennsylvania back on track, and we can start by passing a commonsense severance tax that will help fund our schools – an idea with bipartisan support," Governor Wolf said. "The commonwealth ranks 45th in the nation in percentage of state funding for public education, and as a result, we have seen larger class sizes, fewer teachers, and vital program cuts. These cuts have made it more difficult for students to get a strong education in Pennsylvania's public schools. This is the right thing to do for our children and our economy and to move Pennsylvania forward."
Wolf is calling his plan the Pennsylvania Education Reinvestment Act and expects it to bring in a billion dollars by the 2017 fiscal year.
The act would include a number of exceptions including: gas given away for free, gas from low producing wells and wells brought back into production after not producing enough gas.
Wolf's proposal would also shield property owners who are leasing land for natural gas exploration.