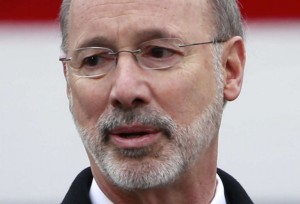 Governor Tom Wolf finally gave up the fight over Marcus Brown.
In a surprising turn of events, however, the State Senate wouldn't let Wolf off that easily.
Wolf's nominee for Police Commissioner ran into trouble when opponents criticized Brown for wearing a uniform despite the fact that he never served in a police force. When a neighbor put up signs criticizing Brown for this, the nominee tore them up. He was under threat of being charged for the action but was eventually cleared.
"This morning, I submitted to the Senate a recall of Col. Marcus Brown's nomination as commissioner of the Pennsylvania State Police," Gov. Wolf stated. "I continue to have full faith in Col. Brown's ability to lead the State Police, and he will remain as acting commissioner."
"It is common practice for governors to recall nominations to allow time for additional discussion, and historically the Senate honors a governor's decision. In recent history, three governors – Governors Casey, Rendell, and Corbett – have recalled four cabinet nominations and the Senate has honored those decisions," he concluded.
The State Senate, though, didn't want to let the issue go. They went ahead with the vote and rejected Brown 26-22. Three Republicans, including former leader Dominic Pileggi, crossed party lines to vote for the nominee.