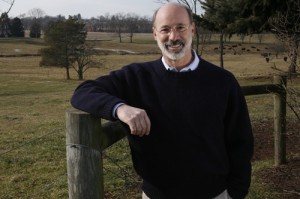 Today, New York Governor Andrew Cuomo officially banned hydraulic fracturing.
Pennsylvania Governor-Elect Tom Wolf disagrees.
Cuomo's decision seals off about 12 million acres of the Marcellus Shale from natural gas drilling. The rationale was that the environmental and health costs of fracking (as it is commonly called) outweigh the economic benefits.
"I cannot support high-volume hydraulic fracturing in the great state of New York," acting health commissioner Howard Zucker said.
When it comes to the vast regions of Pennsylvania sitting atop the Marcellus Shale, though, Governor-Elect Tom Wolf disagrees.
When asked by PoliticsPA if he supports the actions of Gov. Cuomo, Wolf's camp was clear.
"Governor-elect Wolf opposes a ban, and he will work hard to make sure the process is safe," responded Jeffrey Sheridan, Press Secretary for Wolf's transition team.
"Pennsylvania's natural resources should help the commonwealth become an energy leader, including renewable energy and energy efficiency, as well as a magnet for investment and job creation," he continued. "Governor-elect Wolf's priority is to ensure that Pennsylvania is an energy leader with all Pennsylvanians sharing in the prosperity.
"Governor-elect Wolf will work to strengthen the rules governing drilling, increase enforcement of the rules, hire more inspectors, and create a health registry to monitor health issues," Sheridan concluded.