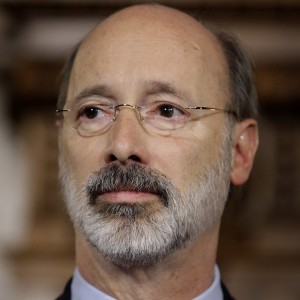 Don't call him a liberal…at least not the most liberal.
Gov. Tom Wolf balked at being ranked as the nation's "most liberal" Governor, rejecting partisan labels in favor of neutral 'practicality.'
Wolf appeared on WITF's Smart Talk on Monday and told host Scott LaMar that PA voters should evaluate him on his policies and their outcomes.
"I'm standing up for public education. I'm standing up for two plus two equals four in a balanced budget. I'm standing up for property tax relief," said Wolf. "I don't care what you call that — liberal, conservative, I don't know — but it's practical."
Earlier this month, a study by data visualization company InsideGov used public statements, press releases, campaign platforms and voting records to rank all fifty American governors from most liberal to most conservative. Wolf was ranked as most liberal, ahead of Washington and Minnesota Govs. Jay Inslee and Mark Dayton.
Wolf suggested that this practicality may have roots in business acumen. He noted that Inslee and Dayton, the second- and third-most liberal Governors, also had private sector experience.
"The governor of Washington, the governor of Minnesota, and me. All three of us have a business background. That tells you something about that list," said Wolf. "People with practical experience actually building something and doing something successful in the private sector — they're the ones who are the most liberal? Maybe that tells you something about their definition of liberal."
Washington Governor Jay Inslee was a partner in a small firm before entering politics. Minnesota Gov. Mark Dayton's briefly owned an investment business and is the heir to the Target store fortune.