Democratic gubernatorial candidate Tom Wolf recently released another campaign ad, entitled "Luck;" this one detailing his policies for helping Pennsylvania's senior citizens.
"Seniors need a governor who will fight for them in Harrisburg," said Wolf. "As Governor, I'll create a registry so families can check backgrounds of care providers and I'll increase access to home health care so seniors have the option of staying in their own homes."
In the ad, Wolf introduces the viewer to his parents as he helps them around their home. "We look after each other," Wolf says contentedly.
"But too many seniors have no one," he continues, "and Harrisburg politicians don't seem to care."
The former Secretary of Revenue mentions his plan to create a criminal background registry for families looking for caretakers to use. He also wants to increase access to home health care.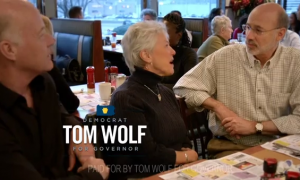 "After all," Wolf says in closing, "seniors have earned that right."
Along with the policies mentioned in the ad, Wolf plans to:
Increase income eligibility requirements for those who already have home-based care. In order to do so, he will create a new eligibility category for residents who have an income up to 150 percent of the Federal Poverty Level. He also wants to adopt a Medicaid State Plan amendment in order to add a "spend down" option for those who prefer home-based care over nursing homes.
Expand health eligibility requirements for those with home-based care. Through Medicare, the state allows seniors who haven't been diagnosed as needing nursing care to have access to home-based care. Through the implementation of the Medicaid Home and Community-Based Services State Plan Option and Personal Care Services Medicaid Option, Wolf wants to put the focus on prevention and the improvement of seniors' lives.
Wolf believes that expanding these various eligibility requirements and improving the state system will simultaneously address the needs of Pennsylvania's ever-growing senior population and maintain current costs in the Commonwealth.Alongside advocating for seniors, Wolf claims he will work just as hard for the rights of homecare workers.
His policy is predicated upon the prioritization of home-based care; that Pennsylvania can create sustainable middle-class jobs while family caregivers are able to focus on their careers, knowing that their loved ones are getting the care that they need.
Wolf is running against former DEP Secretary Katie McGinty, Rep. Allyson Schwartz and State Treasurer Rob McCord.