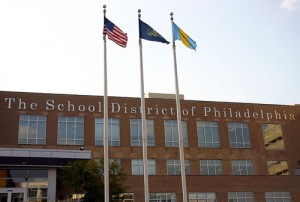 Bill Green is out as Chair and Marjorie Neff is in.
That's the stunning news according to a report from Kristen Graham of the Philadelphia Inquirer.
The move comes after the School Reform Commission (SRC) approved five new charter schools against the wishes of Governor Wolf.
The Gov. is set to announce the move on Monday while Green is threatening to fight the demotion in court.
"I hold the office of chair and the office of commissioner; there is no vacancy in the chair and no legal basis for another commissioner to be named chair," Green told Graham. "This is important: by limiting removal to cause, the SRC statute makes clear that commissioners, once appointed, need to be free from political repercussions for their actions in office."
The SRC is a body that was set up in 2001 to oversee Philadelphia's schools. The Governor chooses three members of the board while the Mayor of Philadelphia chooses two. They serve five and four year terms respectively. Green was named Chair by Gov. Corbett in 2014, while Neff was picked by Mayor Nutter.
This move comes just hours before Governor Wolf's first budget address to the legislature on Tuesday.
Suffice to say, this battle has likely just begun.
Update: Bill Green released the following video: