In an education forum last night, State Treasurer Rob McCord launched allegations of racism at Tom Wolf for his support of Mayor Charles Robertson.
Robertson was found not guilty in the murder of a black motorist decades before Wolf served as the chairman of his campaign. Robertson also allegedly shouted "white power" at a riot where he distributed ammunition to protesters.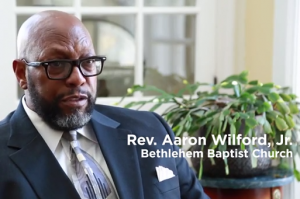 Wolf responded to the charges of racism in a five-and-a-half minute web video where members of the African American community run to his defense.
Interviewees in the spot include Bobby Simmons of the Crispus Attucks Foundation, York Mayor Kim Bracey, Rev. Aaron Wilford Junior of the Bethlehem Baptist Church
"I know the person, I know his heart. Tom is a person who really does not care about the color of your skin, your nationality, your background, where you come from or who your parents are," Wilford said. "What he cares about is the individual, who you are as a human being. He genuinely cares."
Wolf is even the godfather of Wilford's grandson.
"People who are trying to use a sensitive time in the history of York to tear down Tom Wolf are wrong you're absolutely wrong, and let me tell you why you're wrong," Bracey says. "Tom Wolf has worked hard in our community to make our community a better place, that we embrace our diversity, that we are inclusive, that we are a community that represents differences and celebrates those differences."
Wolf will likely have to address these allegations again tonight at the gubernatorial forum at Franklin & Marshall.