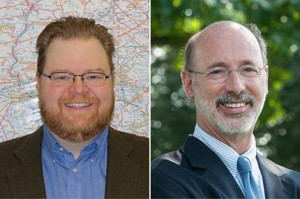 Governor Wolf is bending, but not breaking on the matter of Erik Arneson.
In case you don't remember, this saga began when Gov. Corbett appointed Arneson as the Executive Director of the Office of Open Records at the end of his tenure.
The new Governor wanted his own guy (or gal) in that position, so he fired Arneson. The problem, though, is that it's not exactly clear whether or not Gov. Wolf can remove the head of an independent agency.
Last week, the PA Commonwealth Court ruled in a 4-3 decision that Arneson must be reinstated. Wolf immediately made clear that he was going to appeal the Court's ruling.
Now, the Governor has decided to let Erik Arneson serve in his position while we wait for the appeal process to play out.
"My administration will reinstate Erik Arneson as executive director of the Office of Open Records pending the Supreme Court's review of our appeal to restore the executive authority of the governor," Gov. Wolf said via statement. "Openness and transparency is a top priority for me as governor, and in taking this step, I hope and expect that Mr. Arneson will join us in achieving these goals."
"We will pursue our appeal with the state's Supreme Court because we believe that in its ruling, a 4-3 majority of the Commonwealth Court improperly eroded the governor's executive authority under the Pennsylvania constitution," he continued. "This ruling is inconsistent with previous case law and President Judge Pellegrini, in his dissent, described the majority opinion as ripping holes in the constitutional powers of the governor, leaving governors with 'swiss cheese executive authority.'"
"Therefore, my administration will move forward to ask the Supreme Court to restore the proper balance of constitutional powers," Gov. Wolf concluded.
There is the possibility that this decision is connected to the case of Marcus Brown.
Wolf withdrew his nomination after it became apparent Brown would lose a confirmation vote, only for the Senate to reject him anyway. Still, Brown has been serving as Acting Commissioner and drawing an outcry from Republicans.
Realistically, the Governor couldn't insist Brown stay on the job while Arneson wasn't even being allowed a phone.