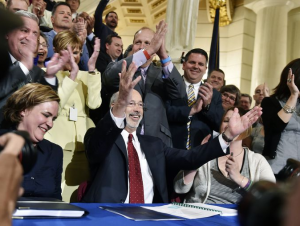 On Sunday, Governor Wolf signed Senate Bill 3 into law, legalizing medical marijuana throughout the Keystone State.
"Since taking office, I have met with patients and families, held roundtables and urged action on this legislation and it is encouraging that the hard work of these families has resulted in truly historic legislation," Wolf said, highlighting the measure's strong bipartisan support.
"The signing of this bill, which will improve the quality of life for patients and their families throughout Pennsylvania, shows that Harrisburg can come together to address big challenges on behalf of the Commonwealth," Wolf said.
Patients diagnosed with one of 17 conditions will qualify for medical marijuana, though there may be a 18-month to 2-year limbo period as the Pennsylvania Department of Health lays out protocols and regulations for growing, processing and dispensing medical marijuana.
Patients with a medical marijuana card from the Dept. of Health will be allowed to legally obtain medical marijuana from another state, though transporting it across state lines remains a federal offense, the AP reports.
"As the department moves forward with implementation, we want to make sure that we consider a number of factors in placing these dispensaries to ensure that medical marijuana is readily available for patients with serious medical conditions," Secretary of Health Karen Murphy said. "The department will be conducting a full population study that will include the location and number of patients suffering from serious medical conditions and their ability to access public transportation to get to these facilities."