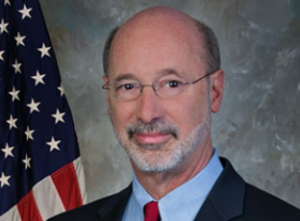 The man from York is finally the leader of the Keystone State.
Today, Tom Wolf was inaugurated as Pennsylvania's 47th Governor.
In keeping with his businessman nature, Wolf laid out three clear goals for his Administration.
The first was "jobs that pay".
"As a business owner, I know that the free market requires a constructive partner in government," the new Governor began. "That means our government should not do everything, but it cannot do nothing either."
Gov. Wolf plans to create good jobs by making public investments, bringing back manufacturing, inclusiveness and smart use of our natural resources.
Protesters were quite vocal (especially at the beginning of Wolf's address), urging the new leader to ban the practice of fracking.
"To the protesters here today, I say: help me develop these opportunities in a way that is clean, safe and sustainable," he responded.
Wolf's second goal is "schools that teach".
"Our schools must be our highest priority," he asserted.
The new Governor did not reveal much about his education plans but called for making sure schools always have necessary resources.
His third objective is "government that works."
Wolf called for an efficient but responsive government. He made clear his will be a smart Administration that helps citizens get ahead.
In addition to that checklist, the Governor began by addressing our current cynical views of government, and the former Peace Corps member added some Kennedy-esque flourishes at the end.
"Many of our fellow citizens haven't found their place in this new world yet," he explained. "And too often, when we've looked to our leaders for answers, we've been disappointed and frustrated to the point where we feel very cynical about our government and our future."
"Our experience has made us cynical, but we cannot allow that cynicism to deflate our democratic spirit or destroy our capacity for effective self-governance," Wolf asserted.
"Over the last three centuries, every generation has been called upon to write a new chapter to carry the idea of Pennsylvania forward."
"Now is our time."
And so began Tom Wolf's own period of time to shape the Commonwealth of Pennsylvania.