Former Revenue Secretary Tom Wolf scored local support via web video from Bobby Simpson, of York's Crispus Attucks Association.
The association is a non-profit group dedicated to providing education and human services, community development, and affordable housing in York, PA.
"I've known Tom over 35 years," Simpson says to the camera, "and Tom has meant, to this organization, a friend."
Simpson talks about various ways that Wolf has helped the organization, saying that Wolf's help doesn't always come in the form of his plentiful money.
"Sometimes it could be advice, or networking, or people to talk to." Wolf's caring for the association, Simpson says, was built upon Wolf's concern for the community of York and his desire to serve it.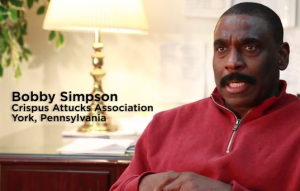 Simpson also discusses some of Wolf's personal traits, saying that the businessman is an intellectual and a good listener.
"And as bright as he is," Simpson points out, "he's not one to think he knows it all or he has all the answers." Overall, Simpson paints Wolf as a humble individual, despite his wealth.
"This is a guy," Simpson continues with a small smile, "for as financially wealthy as he is, who wears suits off the rack from Bon-Ton. I mean, he's driving a Jeep, you know, he has this old, yellow, ugly-looking jacket that you see him wearing in the wintertime when it's raining."
Continuing on a more serious note, Simpson says he believes that Wolf is the kind of person who only comes around once in a lifetime. "When Tom becomes governor of Pennsylvania, this state, we're gonna have someone that we can share. That other parts in the state will see the treasure that we have. They're gonna see, not a politician, they're gonna see just a regular human being that's serving everybody."
Because of the good and the benefits that Simpson says Wolf has provided for York, he surmises that it would be "wise" for Pennsylvanians to vote for Wolf as the next governor.
Having recently lost former Auditor General Jack Wagner as a contender, Wolf now only faces State Treasurer Rob McCord, Rep. Allyson Schwartz and former PA DEP Secretary Katie McGinty.