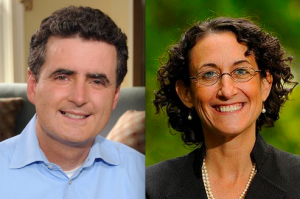 Democrats need to pick up 25 seats to win a majority in the U.S. House, but thanks to redistricting and retiring members in Republican-leaning districts, the real target is higher. That's according to Rep. Jared Polis (D-CO) of the Democratic Congressional Campaign Committee.
"Nationally, we need 25 seats to pick up the House. Now, we are defending some seats as well, so frankly, we need to pick up something like 35 seats because of redistricting and other losses," Polis said.
Polis is the co-chair of the DCCC's Red to Blue effort, meaning he's charged with electing Democrats in seats currently held by Republicans. He has a lot to choose from in Pennsylvania.
On a call with reporters Wednesday, along with candidates Manan Trivedi (PA-6) and George Badey (PA-7), Polis said that Pa. was a big part of the party's plans.
"We fully expect that of the 35 that we will pick up in November, several of those will be right here in Pennsylvania. It's going to be a likely Obama state, and I think that in all three of these districts Obama will likely win," Polis added. "We are fully expecting that the route to the majority will include pickups in Pennsylvania."
In order to stretch the field nationally and lock down GOP resources, Dems must contest the races in Pa.
During the wave year of 2010, the GOP knocked off five Democratic incumbents in Pa. Of those five new GOP members, only two face challengers on the DCCC's top tier Red to Blue list. Delayed recruiting and slow fundraising have hampered Democratic hopes of a rebound in the state.
Freshman Reps. Mike Kelly (R-Butler) and Tom Marino (R-Lycoming) are in districts drawn much safer for Republicans and are prohibitive favorites to win re-election. Likewise Rep. Charlie Dent, a perennial target of the DCCC, who drew an underfunded challenger. Rep. Lou Barletta (R-Luzerne) faces Gene Stilp, a well-known activist who, despite a unique profile, looks unlikely to compete with the incumbent financially.
In southwest Pa., Larry Maggi is designated as a DCCC "Emerging Race" in his challenge to Rep. Tim Murphy (R-Allegheny) – but he, too, trails the incumbent in fundraising.
In fact, because Rep. Mark Critz's 12th district was drawn so favorably for Republicans, it's conceivable that Democrats could actually finish the year with a net loss in the delegation. In any case, they'll have to spend a lot of money to keep the seat.
That's why they're pushing hard in the Philly area.
In addition to Trivedi, who's challenging Rep. Jim Gerlach (R-Chester) and Badey, who's challenging Rep. Pat Meehan (R-Delaware), the committee is aiming to help Kathy Boockvar, challenging Rep. Mike Fitzpatrick (R-Bucks) in PA-8.
Right now, Democrats think Boockvar has the strongest shot of the three, given the 8th district's party registration and propensity to swing back and forth between parties.
All three Republican incumbents voted for the Ryan budget and its controversial changes to Medicare. Add that to presidential-year voter turnout in three districts that Obama won in 2008 and, the thinking goes, all three are vulnerable.
"We feel very good, if we are judged on our records and what we've done with our lives, that we will win this thing," said Trivedi, a physician and Iraq war veteran. "I think people will recognize that turning Medicare into a voucher program is not the right way to go."
However, a challenger with a good resume isn't the same as a good challenger. It takes money to beat an incumbent.
At the end of the 2nd fundraising quarter back in June, Trivedi was at a cash on hand disadvantage of $359,000 compared to Gerlach. Boockvar fell behind Fitzpatrick by $781,000, and Badey lagged Meehan by $1,198,000.
Candidates have overcome steeper financial deficits to win in this region, but unlike recent cycles in 2006, 2008 and 2010, 2012 doesn't look like it will be a wave year. All three will need a boost from the committee and related interest groups in order to compete.
Each of those districts is in the Philadelphia media market, the fourth-most expensive in the nation. An effective, sustained independent expenditure campaign by any committee from October through election day will cost at least $800,000 there, according to media consultants that spoke with PoliticsPA. That's twice the cost of the average television market in the country.
So far the DCCC has reserved $3.57 million in Philly airtime for the fall, which has not yet been assigned to specific races. Assuming that the committee goes beyond the minimum to boost its top tier challenger in New Jersey's 3rd district, also in the Philly market, they have enough to play the minimum in PA-6, PA-7 and PA-8 (and, of course, they could always decide to spend more).
Republicans are confident that Philly, and in turn plans to win the majority, won't pan out for the DCCC. Brock McCreary, the Deputy Political & Polling Director at the National Republican Congressional Committee, says the Dems' Pa. problem parallels their national problem.
"Their math for taking back the House is heavily dependent upon winning races in the Philadelphia market," he said.
"But I think symbolically it's a reflection of the fact that not having surefire competitive races there says a lot about what the national landscape is like for House Democrats this cycle."
That's another reason Democrats are pushing to make these three Philly area races more competitive. Every dollar they spend forces Republicans to spend money, too. That's money that won't go to protect other GOP incumbents or boost Republican challengers.
For Dems, it's worth a try.
"We hope to give George Badey a boost by adding him to Red to Blue to be able to accelerate his own fundraising to get his message out," Polis said. Badey sent three fundraising emails in as many days boasting of his promotion on Monday.
"And then of course, the DCCC communication piece is also there to help get our candidates across the finish line and win."