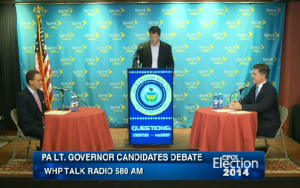 State Senator and Democratic candidate for Lieutenant Governor, Mike Stack, faced off against Republican incumbent Lt. Gov. Jim Cawley Tuesday night in Harrisburg in their first debate.
The event was hosted by WHP talk radio at its studios in Harrisburg, and moderated by Ken Matthews, WHP radio and political personality.
Held exactly two weeks before the gubernatorial election, the debate attempted to pick apart key issues such as a severance tax, education, pension reform and unemployment to clarify each ticket's stance.
Education
Matthews coined the debate the "Billion Dollar Debate" after the controversy surrounding the purported $1 billion the Corbett administration is accused of cutting from the education budget.
While Stack proposed a progressive view of school budget reform, Cawley reflected on the many initiatives the Corbett administration has already taken to resolve the financial crisis in Pennsylvania's public schools.
Cawley argued that the federal stimulus money that had previously funded schools ran out during the Corbett administration, creating a major gap in school funding already confounded by the state's $4.2 billion deficit. The Corbett Administration, adhering to its promise to revive
Pennsylvania's economy by paying off the deficit inherited from the Rendell Administration, made the necessary decisions to reduce state debt without directly targeting schools.
In rebuttal, Stack argued that Cawley's view of the situation was "so inaccurate to what we're doing in Pennsylvania."
Not only did Stack repute the idea that Corbett faced issues of federal stimulus money running out, he believes that cronyism between Corbett and big business led to a conscious $1 billion cut. Coupled with the Corbett-Cawley administration's hesitancy to tax natural gas drillers to fund the schools, larger class sizes and reduced resources have resulted in kids being unable to get a quality education.
Economy
To avoid parrying stones over the Corbett economic policy, Matthews steered the candidates to address whether or not a higher minimum wage is needed in Pennsylvania.
Cawley immediately pointed to Pennsylvania's efforts not to provide a living-wage, but, more importantly, a family-sustaining job.
"It was never intended to be a family-sustaining wage" Cawley said of his administration's work to support the Pennsylvania working class.
Looking regressively at the issue, Cawley highlighted Corbett's success in bring 185,000 new jobs at family-sustaining incomes to Pennsylvania.
Stack, who supports a higher minimum wage, argues that if the working class isn't provided a living-wage that it will be exploited by the "the greedy interests of big business and profit."
He then identified the 70% of women working for minimum wage in Pennsylvania as the group most likely to flourish under the proposed increase in the minimum wage that Tom Wolf favors.
Though the candidates disagreed on minimum wage laws, they were economically aligned in their views on increasing jobs in Pennsylvania.
While Cawley held that the Corbett Administration followed through with its pledge to reduce unemployment, lowering the rate by 2.5 percentage points since 2011, Stack argued that the majority of jobs Pennsylvania creates aren't available to its own residents.
Stack accused the Governor of favoring outsourced labor from neighboring natural gas giants such as Texas and West Virginia. He also indicated that the Corbett Administration hasn't tapped it greatest "natural resource," its young people.
"Unless we harness our greatest assets…which is the young people, we are still going to have trouble in Pennsylvania" Stack said.
Natural Gas
As the debate turned to address Pennsylvania's fastest growing industry, each candidate weighed in on the merits of a severance tax on the natural gas business.
Stack, who is running on Wolf's platform proposing a five percent tax increase on the natural gas industry to help fund schools, criticized the Corbett administration's reluctance to tax the industry giants. To adhere to his policy of no new taxes, Stack argued that Corbett issued a "back door" tax by cutting funds from schools while refusing a severance tax on natural gas drillers.
Cawley, in rebuttal, only had two things to say: five and three. That is the five years that Corbett has collected over $3 million in taxes from the natural gas industry. With the highest corporate net income tax at nearly 10 percent, Cawley believes the Corbett administration doesn't need to impose a severance tax on the industry. He holds that it won't repair the property tax problems that are currently contributing to Pennsylvania's failing schools, but instead act as a band-aid for a larger problem.
Pension Reform
"The American people and the people of Pennsylvania are sick and tired of seeing the…American legislature bickering" Stack said regarding the bipartisan support needed for effective pension reform.
A state senator for 14 years, Stack feels strongly that only through bipartisanship can the state introduce legislation that addresses the growing pension crisis.
Stack highlighted his support of Act 120, which protected the pension fund of Pennsylvania state employees, as the type of bipartisanism that the Wolf-Stack administration believes will help reform the pension system.
Cawley denied Stack's argument, asserting that Tom Wolf has been "reluctant" to even address the pension problem. Claiming that Wolf's platform fails to provide a definitive plan to reform the pension system, Cawley indicated that Governor Corbett has worked to develop a pension plan that doesn't rob other government organizations, including schools, of necessary funding.
Stacks immediately rebutted, arguing that Gov. Corbett lacks foresight on the issue and that only during this election cycle has the Governor acknowledged the growing problems with Pennsylvania's pension system.
Closing
In his closing statement, Stack described how grateful he was to have had the opportunity to meet so many Pennsylvania's and become a "better person for it." He continues to advocate for the Wolf-Stack vision of a better Pennsylvania that relies not on natural gas as its greatest asset as the Corbett Administration has done, but looks to its young people as the future's innovators. In support of education and the middle class, Stack maintains that a better Pennsylvania is achievable with a vote for the Wolf-Stack ticket.
Cawley opened in rebuttal with a familiar statement that he and his opponent see "two very different versions of Pennsylvania." The Corbett Administration has worked to create a Pennsylvania that reduced its high deficit without raising taxes while also creating jobs in the private sector and funding education. He doubted the success of a potential Pennsylvania lead by a Wolf-Stack Administration that promises a tripled income tax that would destroy the progress the Corbett and Cawley has facilitated.
"It's time for us to turn our back on the same old, tired, failed policies of a Wolf-Stack ticket" Cawley said.
Impressions
Though neither candidate removed the fog surrounding the campaign's big issues, Senator Stack was able to provide a progressive view of Pennsylvania politics that relied upon untapped policy makers and ideas. Remaining calm even when interrupted, Stack held firm that his 14 years in the State Senate had enlightened him to the progress that could be made by a Wolf-Stack team.
Cawley called upon the Corbett administration's past successes, including a 2.5% decrease in unemployment, reduced deficit and improved private sector, to prove that the view the Corbett-Cawley Administration has for Pennsylvania has not only worked in the past, but will continue to work in the future. Quick to pinpoint holes in the Wolf-Stack platform, Cawley advocated for continued job growth to help fund schools and revive the Pennsylvania economy.