PA Political $$: Obama Bundlers and GOP SuperPAC Donors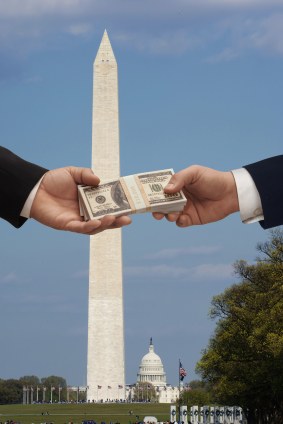 The FEC deadline to disclose financial contributions to SuperPACs and campaigns recently passed, and there was no shortage of donors from Pennsylvania.  Here's the rundown:
GOP SuperPAC Donors (from Jeremy Roebuck, Philadelphia Inquirer):
Consol Energy gave $150,000 to the Restore Our Future Fund, the SuperPAC supporting Mitt Romney (Consol Energy, which is based here in PA, has paid PA native Rick Santorum in the past for his lobbying efforts; so far, they have not given any money to his campaign or the SuperPAC supporting him, the Red, White, and Blue Fund)
Klehr Harrison Harvey Branzburg L.L.P., a Philly law firm, donated $25,000 to Retore Our Future
Arnold M. Katz, a Montgomery County insurance broker, donated $10,000 to the Red, White and Blue Fund
John M. Templeton Jr., the president of Templeton Foundation in Bryn Mawr (also an evangelical Christian), gave the Red, White and Blue Fund $250,000.
There were no reported donations to the SuperPACs supporting Newt Gingrich (Winning our Future) or Ron Paul (Endorse Liberty).  However, these disclosure lists do not include any fundraising from January, which saw the Iowa caucuses and the first few primaries.
Obama Bundlers (from Colby Itkowitz at The Morning Call)
Bundled more than $500,000:

David and Rhonda Cohen from Philadelphia.  Mr. Cohen is executive VP for Comcast
Bundled between $200,000-$500,000:
Mark Alderman, an attorney at Cozen O'Connor in Bryn Mawr, who served as Pennsylvania chairman on the Democratic National Committee National Finance Committee and on the Obama-Biden Presidential Transition Team.

Kenneth Jarin, a partner at Ballard Spahr law firm and chief labor negotiator for the City of Philadelphia.

Cliff Levine, a lawyer at Cohen and Grisby in Pittsburgh, who served as chairman of Obama's Western Pennsylvania Steering Committee. He was also a member of Obama's National Finance Committee.

Lazar Palnick, an attorney from Pittsburgh
Bundled between $100,000-$200,000:
Israel Roizman, a real estate developer from Lafayette Hill, who reportedly drove a tank during Israel's Six-Day war in 1967
Bundled between $50,000-$100,000:
Daniel Berger, a managing shareholder at Berger & Montague law firm in Philadelphia
Peter Buttenweiser, a wealthy philanthropist from Philadelphia, whose mother's family founded Lehman Brothers.
Joseph and Marie Field, who founded Entercom Communications Corp. (a radio broadcasting company); also from Philadelphia
Matthew and Marie Garfield, who runs Garfield Refining Company, from Philadelphia.
Richard Horowitz, president and COO of R.A.F. Industries, Inc., a private equity firm.  Mr. Horowitz is from Wynnewood.
Gerald McHugh, an attorney with Raynes McCarty law firm in Philadelphia.