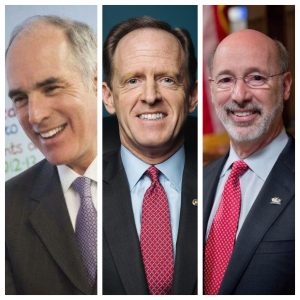 Sorry politicians, but Pennsylvania is just not that into you. At least that's what a Morning Consult poll indicates for Pennsylvania's top three statewide elected officials.  
The market research company polled residents in all 50 states to determine the most and least popular Governors and Senators in the country. The rankings are determined by the total job approval number in descending order, rather than net approval.
Gov. Tom Wolf (D), Sen. Bob Casey (D), and Sen. Pat Toomey (R) each failed to crack the 50th percentile in popularity compared to their peers. The good news for Wolf and Casey is that their approval ratings are net positive.
Wolf held the highest approval rating for the three: 45% approve, 38% disapprove, and 17% had no opinion. However, this didn't make Wolf stand out in the Governor's list, ranking as the 31st most popular governor in the country. Wolf's net approval rating is 7%.
Casey held the best net approval rating of the bunch, 10%. 41% of Pennsylvanians polled approve of the Senator's job versus 31% who disapprove and 26% with no opinion. Casey is tied with Sen. Jerry Moran of Kansas as the 67th most popular Senators in the nation.
Toomey is rated on this list as the 94th most popular Senator. 35% of Pennsylvanians approve of his job performance, while 39% disapprove and 25% have no opinion.
If you flip the numbers around and rank in descending order of highest disapproval numbers, Toomey ranks 16th most unpopular, Wolf ranks 19th, and Casey ranks 54th. Morning Consult only included 99 of 100 Senators, since Mississippi inaugurated a new one after the polling started.
Is the grass greener on the other side?
Some of Pennsylvania's neighbors have ratings to boast, while others find themselves toward the bottom of the list.
The most popular governor with a state bordering Pennsylvania goes to Maryland's (R) Larry Hogan. He has the second highest approval rating of any Governor in the nation with 68%. Hogan's net approval rating is 51 points.
Gov. Jim Justice (R-WV) holds the lowest approval rating of PA's neighbors with 41% believing he is doing a good job. Justice has a net approval rating of -4.
Delaware is home to the most popular Senator in the region. Sen. Thomas Carper (D-DE) holds a 51% approval rating with 27% disapproving and 22% having no opinion. His net approval rating is 24 points.
The grass certainly isn't greener for the Garden State's Senior senator. Sen. Bob Menendez (D-NJ) only has a 33% approval rating with 41% disapproving and 26% having no opinion. This list has Menendez with the lowest approval rating of any Democrat in the Senate.     
2020 Radar
The Keystone state also has some neighbors who reportedly have their sights set on 1600 Pennsylvania Ave. in 2020.
Sens. Cory Booker (D-NJ), Kirsten Gillibrand (D-NY), Govs. Andrew Cuomo (D-NY) and John Kasich (R-OH) didn't find themselves in the top 10 of most popular Senators or Governors in the nation.
Cuomo and Kasich shared a 48% approval rating, but Kasich holds the net approval advantage. Kasich's net approval is 15 points, while Cuomo's is 9 points.
Booker holds a slight advantage over Gillibrand with having a 48% approval rating to her 47%. Gillibrand has the upper hand in net approval rating with 19 to Booker's 17 points.