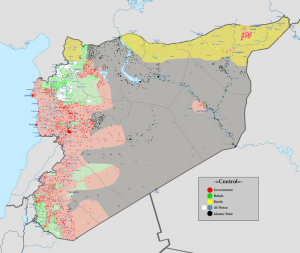 The terrorist attacks in Paris have inflamed opinions on how to handle the thousands of refugees fleeing the crisis in Syria.
A number of Governors have stated that they won't accept any Syrians (even though Governors can't actually deny any refugees). In response, Governor Wolf said that Pennsylvania would continue its current open policy.
Below we present the various statements issued by Pennsylvania officials and candidates in response:
Congressman Lou Barletta
Congressman Lou Barletta, PA-11, today sent a letter to Pennsylvania Gov. Tom Wolf urging him to reconsider his plans to accept so-called "Syrian refugees" in Pennsylvania in the wake of Friday's terrorist attacks in Paris. Barletta, a member of the House Committee on Homeland Security, advised Wolf to heed the warnings of national security experts that the vetting process for the refugees is inadequate and flawed.
"I write to urge you in the strongest terms possible to reconsider your plans to accept the so-called 'refugees' fleeing Syria and welcome them to Pennsylvania," Barletta wrote to Gov. Wolf. "As a member of the House Committee on Homeland Security, and also its Subcommittee on Counterterrorism and Intelligence, I implore you to suspend cooperation until a dependable system is in place to check the background of those seeking refugee status."
Barletta reminded Gov. Wolf that one of the attackers in the Paris terrorist assaults is believed to have entered the European Union through Greece as a Syrian refugee. Barletta indicated that this should give Pennsylvania pause in accepting the relocated refugees.
"In my role on the committee tasked with overseeing much of the security apparatus of this country, I have had the opportunity to speak directly with some of our best and most experienced national security experts," Barletta said. "They have told me that properly vetting these refugees is a difficult challenge at best and nearly impossible at worst. These are professionals who are best positioned to know what our intelligence and analytical capabilities are, and I strongly recommend that you consider their warnings."
Barletta noted that governors of other states have decided to reject the settlement of refugees and asked Gov. Wolf to follow suit.
"With all these facts considered, I appeal to your concern for the safety of your fellow Pennsylvanians and ask that you reverse your policy of accepting the so-called 'Syrian refugees.'" Barletta wrote. "Already, the governors of Alabama, Arkansas, Louisiana, Michigan, and Texas have announced that they will not be cooperating with the federal relocation program.  I urge you to direct your administration to do the same."
Braddock Mayor and 2016 Democratic Senate candidate John Fetterman
"Watching what happened in Paris was a heartbreaking reminder of how important it is that we stand together as a country united against terrorism, and remember what makes America great. In America, we compassionately value freedom and keep our doors open to those escaping unimaginable violence and hardship in search of a better life. I agree with President Obama that escalating military action and turning away refugees is the wrong response. If we react the way ISIS wants us to, then we are running out of their playbook, not ours."
Philadelphia Mayor-Elect Jim Kenney
"Philadelphia has a long history of being a city of refuge for those in need–welcoming Quakers, Irish immigrants, Sudanese refugees and many others. I applaud Governor Wolf's decision to work with the federal government to properly screen and resettle Syrian refugees in Pennsylvania. In keeping with our city's history, I look forward to working with him and welcoming refugees seeking a safe home to Philadelphia."
2016 Democratic Senate candidate Katie McGinty
"Our prayers and thoughts go out to the people of Paris. We stand in solidarity with France as they come to terms with the unconscionable violence that claimed so many lives on Friday night. To stop such future attacks, we need to understand how the terrorists were able to communicate and plan their attack without detection. And working with France and our other allies, we need to seriously review our efforts in fighting terrorism and rooting out ISIS.
"We cannot lose sight that the refugees fleeing Syria are the ones who are trying to escape the same people who unleashed the unimaginable violence that erupted in Paris.  We have always been a compassionate nation and that cannot change. However, it is critical that the federal government use all resources possible to ensure that every single refugee has been vetted and it is determined that they're not a threat before being admitted to this country."
Congressman Pat Meehan
"Our nation has a long, proud history of accepting refugees facing danger and persecution," said Congressman Meehan. "But the horrifying attack in Paris showed the danger in allowing vast numbers of refugees across international borders without any vetting. ISIS has shown it is willing and able to utilize the flood of refugees as a cover for its operatives, and we have every reason to believe they'll continue to do it."
"The hearing I held in 2011, focused on refugees from Iraq and Afghanistan, demonstrated the difficulty of assuring that they pose no threat to Americans. It was difficult in assessing the risk even then, when we had a significant presence of U.S. troops on the ground, a cooperative Iraqi government and an extensive intelligence-gathering network. We have none of those working in our favor in Syria today."
"Up till now, the small number of Syrians allowed in the country has enabled us to take prudent measures to screen them. But the dramatic increase in refugee admissions the administration seeks will preclude that. We simply have no ability to vet vast numbers of refugees from Syria at this time."
Congressman Scott Perry
"President Obama says ISIS is contained, but the scale and coordination of the attacks in Paris and the recent downing of a civilian airplane in Egypt show it clearly is not. ISIS is a cancer. And a cancer cannot be contained; it must be eradicated.
The attacks in Paris proved – once again – that not only is ISIS capable of exploiting refugee flows and infiltrating / attacking the West, but it's not shy about telegraphing their strategy to continue doing so.
Given the current deplorable status of our border security, we have no reason to believe that we can ensure that those seeking refugee status will be properly vetted. National security officials have told the House Homeland Security Committee that we currently lack the means to properly screen all participants for potential security risks. Given this reality, the President must temporarily suspend bringing in Syrian refugees until we know more about this threat and that a rigorous and thorough screening plan is in place. If the President refuses, then Governor Wolf should halt cooperation with this program.
America is the land of immigrants. We've welcomed refugees and immigrants for generations, forming a culturally diverse and open country unlike any other in the world. In fact, my own grandmother legally emigrated from Colombia in search of greater freedom and opportunity for her family. But the safety of the American people must be our top priority – period. We must protect our citizens from those who seek to take advantage of our generosity to commit acts of terrorism."
Congressman Keith Rothfus
"President Obama's assessment that these barbaric acts are merely 'setbacks' is mistaken. His proposed policy of accepting thousands of Syrian refugees into American towns and cities is deeply misguided and puts the American people at risk. The safety and security of the American people is a nonnegotiable priority.  Americans need to know their elected officials are doing everything we can to prevent similar acts of terror here at home. The American people are a compassionate people and desire to aid in the humanitarian crises occurring abroad. The U.S. has been more generous in aid efforts than any other country in the world and has given $4.5 billion in humanitarian relief for those affected by the war in Syria. Until refugees can be properly vetted, however, it would be unwise to allow them into the country."
Congressman Bill Shuster
"The attacks in Paris were yet another tragic but true glimpse into the pure evil of radical Islamic terrorists, and the only way to stop this from happening anywhere in the United States or across the world is to completely wipe these murderers off the face of the earth," said Congressman Shuster. "We must work with our allies to find them and destroy them, and making sure our military is equipped with the resources to do so remains my top priority as a member of the House Armed Services Committee."
Intelligence continues to gather information, but it is believed that one of the attackers may have traveled to France through Greece and into Europe, like the thousands of other Syrian Refugees are currently doing. On Monday Pennsylvania Governor Tom Wolf announced that his administration will continue working with the federal government to bring Syrian refugees to the state. In order to halt unvetted, unknown Syrian refugees from entering the United States, Congressman Shuster is cosponsoring H.R. 3314, the Resettlement Accountability National Security Act of 2015. This measure suspends the administration's refugee resettlement program until Congress agrees to resume the program through a joint resolution.
"I am supporting legislation to halt the United States from accepting Syrian refugees into our nation until Congress agrees to resume the program," continued Shuster. "It only takes one terrorist masquerading as a refugee to do unspeakable damage, and we cannot allow that to happen."
Senator Pat Toomey
"In light of the credible report that a violent Islamist extremist claiming refugee status participated in the attacks in Paris, we must reexamine our security protocols for admitting Syrian refugees. While most refugees are innocent people in dire situations, unfortunately we presently have no fully reliable way of vetting those who come from chaotic terrorist havens such as Syria. As a result, we should suspend refugee admissions from Syria until we are able to determine with full confidence that there are no security risks among them. The safety of our people must come first."