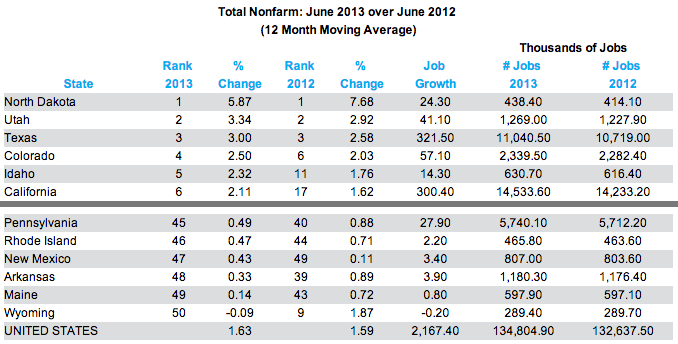 PA ranked 45th in job growth nationwide according to the June jobs numbers. The Commonwealth has held steady at that rank for three months.
The economy added 27,900 according to U.S. Bureau of Labor statistics compiled by the W.P. Carey School of Business at Arizona State University. It represents an increase of 0.49%.
The ranking is determined using the percentage of new jobs created in one month on a twelve month moving average. Pa. ranked 40th in the nation in June 2012 and was 6th in January 2011, the month Gov. Tom Corbett took the oath of office.
Democrats have repeatedly cited the ASU-compiled data in their charges that Corbett sunk the state from 7th in job creation to 49th.* That particular claim is based on a less reliable measure of employment numbers, a simple comparison of one month to the same one in the year previous. According to that measure, Pa. ranked 46th in June, 2013.
*According to the same measure, Pa. has added 242,100 net jobs since January 2011.
Pa.'s unusually high rank of 6th in January of 2011 stemmed from the fact that the Commonwealth was less impacted by the recession than other large states.
The unemployment rate remains as it was for the month of May, holding at 7.5%. This is an improvement when compared to the 8% of June 2012.
The numbers are a mixed bag at best, leaving a struggling Corbett a challenge as he seeks re-election on a job creation platform.
Corbett has emphasized the state's net private sector job growth of 130,000.
At this point in Gov. Ed Rendell's re-election cycle, in June 2005, Pa. ranked 39th according to the more reliable moving average measure and 37th according to the month-over-month measure favored by the Democratic party.
Corbett's re-election campaign advertises on PoliticsPA.