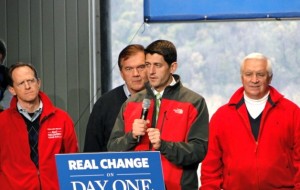 All 13 of Pennsylvania's congressional Republicans voted in favor of Rep. Paul Ryan's budget plan Thursday morning and all 5 Democrats voted against it.
It passed the House 227 to 207, with all Democrats and 10 Republicans voting no.
The battle lines over this budget are almost identical to the ones over the past two years: Republicans say their plan responsibly curtails spending and reforms entitlements; Democrats say the plan boosts millionaires at the expense of the poor and middle class.
Summarizing the GOP point, Rep. Bill Shuster (R-Blair) said in a statement that the budget, "targets wasteful spending and stops spending money that we don't have. This budget proposal fulfills the promises House Republicans made to the American people to cut spending and end business-as-usual in Washington."
The House Majority PAC is a super PAC that seeks to boost Democratic efforts in the House. The group slammed Rep. Mike Fitzpatrick (R-Bucks) in a statement.
"After an electoral cycle in which Republican candidates faced unending criticism and lost seats over their support for the Ryan Budget, Republican Rep. Mike Fitzpatrick tripled down and voted for the Ryan Budget yet again."
"In voting for the Ryan Budget, Mike Fitzpatrick made his dangerous priorities abundantly clear: end the Medicare guarantee and force seniors to pay more for health care while cutting trillions in taxes for the wealthy and forcing the middle class to pay potentially thousands more every year," said Alixandria Lapp, the PAC's Executive Director.
So far, the Democratic Congressional Campaign Committee issued similar statements against Fitzpatrick as well as Reps. Jim Gerlach (R-Chester), Mike Kelly (R-Butler) and Pat Meehan (R-Delaware).
However, Democrats don't have a record of making the issue work for them in Pa. congressional races.
Challengers in every GOP-held district in Pa. sought to make Ryan's past budget an issue last year. Every one was unsuccessful. Fitzpatrick, seen as the Commonwealth's most vulnerable Republican, cruised to re-election by 13 points.