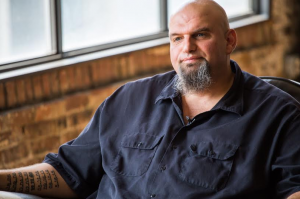 John Fetterman's financial disclosure forms were made available just before voters head to the polls today.
Top-Line Numbers
Fetterman raised $275,538.72 in the first quarter of 2016 and has now brought in over $600K in his once-longshot campaign for U.S. Senate.
The decade-long Braddock Mayor spent $364,683 between January and April and was sitting on $42,527 in cash on hand as of Mar. 31.
Contributions
Fetterman brought in eight donors of $2,700 in Q1 and 26 over $1K, while just one donor maxed out at $5,400.
40 donors have now passed the $1K mark since his campaign started in September.
10 donors in Braddock have now chipped in almost $18K to their mayor's campaign. Fetterman also found solid support from Philadelphia with 15 contributing over $6K.
His strongest support comes from Pittsburgh, where 99 donors of $250+ gave just over $56K to the leading candidate from western PA. (Joe Vodvarka is from Findlay Township, outside of Pittsburgh, but doesn't register in most polls.)
Fetterman's wife, Gisele, was one of his $2,700 donors, while the Braddock Mayor has given his campaign over $37K of his own money, with $24,900 coming in since April 11th.
ActBlue, a fundraising PAC for Democratic candidates, contributed almost $197K, though Fetterman only picked up two other PAC donations over $1K – International Brotherhood of Electrical Workers ($2,500) and the Iron Workers Union ($2,000).
Expenditures
Unsurprisingly, Fetterman's biggest expenses were his campaign ads. He spent over $133K on advertisement production from Collegeville-based I Slept on My Face Productions.
Fetterman spent another $15K to advertise with Comcast and paid out $10K on ad consulting from Darren Berringer of 3D Political.
Almost $30K has come out of the campaign coffers for direct mailers, with Brookhaven-based Alliance Business Systems pocketing over $23K and Milwaukee-based AB Data picked up over $6K.
Washington, DC's 270 Strategies were paid $24K to implement a digital strategy for the campaign, while Braddock printing company Ink Division made over $8,200 for making campaign shirts.
Access to the PA Democratic Party's voter file cost the campaign $3K.
Fetterman paid his 6 campaign staffers $56,389.62 over the first three months of 2016.