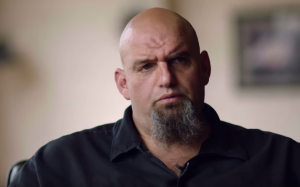 The political outsider just picked up the support of a former insider.
Barbara Hafer announced today that she is endorsing John Fetterman's campaign for Senate. Hafer served as Pennsylvania's Auditor General from 1989 to 1997. She followed that with a stint as State Treasurer from 1997 to 2005.
Hafer actually used to be a Republican before she switched to the Democratic Party in 2003.
"If John can do even a fraction of what he did in Braddock for other communities in the Commonwealth, Pennsylvania will thrive like never before," Hafer stated. "While so many politicians were compromising their ethics or engaging in risky borrowing to try to stabilize struggling economies, John attracted millions to his home through simple hard work."
"And what's more, he spent that money wisely, investing in everything from a community center that provides a safe space for families and kids after school to Braddock's first commercial retail space in years," she concluded. "The Senate desperately needs someone with John's record of getting things done."
"I'm very excited to have Barbara Hafer's support," Fetterman responded. "Her unrelenting work ethic and her ability to put results before Party are two qualities I hope to take with me to the Senate. I look forward to working with her to creating a stronger future for Pennsylvania's families."
Fetterman is battling former Chief of Staff to Gov. Wolf Katie McGinty and former Congressman Joe Sestak for the Democratic nomination. Incumbent GOP Senator Pat Toomey is running for re-election.