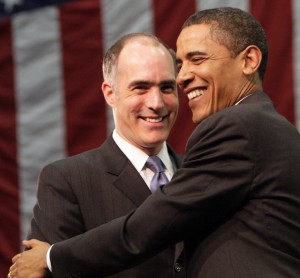 Senator Casey fears the Obama Administration is taking it's eyes off of ousting Syrian President Bashar Assad.
That's the main takeaway from his op-ed in today's Washington Post.
The Keystone State's Senior Senator made clear he supports President Obama's efforts to dismantle ISIS but fears they may distract from the goal of removing Assad.
"The Islamic State must be our top focus in the region; it presents the clearest and most pressing threat to our national security interests and those of our partners," Senator Casey wrote. "However, I am concerned that the administration has turned its attention away from our previous goal: bringing about the end of the oppressive, violent rule of Bashar al-Assad. Now is the time for the administration to take a hard look at where this conflict started: in deep-seated grievances against oppressive national governments in Damascus and Baghdad."
Since 2011, a civil war has been fought in Syria between the oppressive Assad regime and various rebel groups. The President, while asserting Assad should step aside, felt the rebels were not organized or sophisticated enough to successfully overthrow Assad and institute a moderate government.
Hillary Clinton pointedly detailed her objections to this policy in an interview with journalist Jeffrey Goldberg this year.
Since the rise of ISIS, the Obama Administration has started to aid some rebel groups but the priority is still mainly on battling the extremist group in Iraq and Syria.
The division between a "containment" strategy and a "nation-building" strategy (for lack of better terms) have been a major battle within the Democratic party.
Sen. Casey editorial suggests he is in the latter group.
"Now is the time to double down on our efforts to support the moderate, civilian opposition in Syria," the Senator writes. "A targeted, strategic investment in helping Syria's farmers, doctors and bureaucrats to administer the basic services expected of a functioning government could help undermine Islamic State control and set the foundation for a stable Syria."