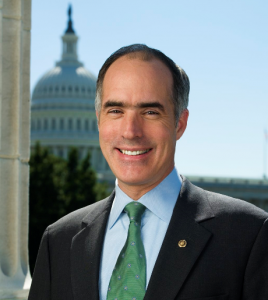 In an announcement that should surprise no one, Senator Bob Casey is endorsing Hillary Clinton for President.
Actually, the only surprising aspect of this news is that it took this long. In fact, dozens of Congressional Democrats announced their support of the former Secretary of State before she even officially declared her candidacy.
"Today, I'm proud to announce my endorsement of Hillary Rodham Clinton to be the 45th President of the United States," Sen. Casey wrote in an email to supporters. "Hillary has dedicated her life to public service and the fight for everyday Americans. Having served with her in the Senate, I know she has always been a strong advocate for the middle class and I'm confident she will work tirelessly to ensure that Pennsylvania families have the chance to get ahead and stay ahead."
There is quite a bit of history between the Casey and Clinton families.
In 2008, the Senator endorsed Barack Obama instead of Hillary. During the contentious Pennsylvania primary that April, Casey defended the then-Illinois Senator.
Going back further, in 1992 the Senator's father Governor Bob Casey Sr. was prohibited from speaking at the Democratic National Convention. The Clinton camp said it was because the Governor hadn't endorsed the Clinton/Gore ticket yet while the senior Casey insisted he was being excluded for his pro-life views.
After all these years, it seems the two political dynasties are finally united.