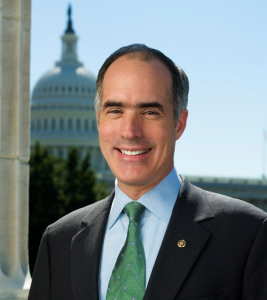 Maybe there still are some things we can all agree on.
Senate Democrats Robert Casey (D-PA) and Charles Schumer (D-NY) have teamed up with
Representative Carolyn Maloney (D-NY) and the Senate Finance Committee to propose the Nazi Benefits Termination Act, which will end Social Security benefits distributed to former Nazi war criminals and SS guards previously expelled from the U.S.
The lawmakers are reacting to a recent AP study that found that at least four surviving Nazi war criminals and SS guardsmen are receiving Social Security benefits. The money flows from a legal loophole the U.S. Justice Department used to persuade former Nazis to leave the country before deportation.
The Social Security Administration (SSA) has refused the AP's request for documentation regarding payments made to former SS officials while the Justice Department has denied using Social Security benefits as incentives for the war criminals to voluntarily leave the country.
"The idea that Nazi war criminals could receive Social Security benefits is deeply disturbing and should be remedied quickly," Senator Casey said in a press release about the Nazi Benefits Termination Act.
The Act doesn't directly challenge the U.S. Justice Department's previous actions, but it does introduce new legislation that will deny any Federal public assistance to any person found to have committed Nazi war crimes and effectively close the loophole.
"This investigation has revealed a gross injustice and I'm hopeful that Democrats and Republicans will come together to fix this problem in the very near future" Casey said.
Rep. Carolyn Maloney, working with Sen. Casey, has issued an order that the Justice Department and the SSA launch an immediate investigation into the government funds still flowing to the former Nazis. The SSA has not recognized Maloney's request, but has stated that it doesn't track information related specifically to Nazi cases.
Casey has called the AP's finding "deeply disturbing" and hopes the bill will clear the Senate as soon as possible to quickly end the payout of American tax dollars to men convicted of war crimes.
The White House has come out in support of the bill and released statements to the press that it does not believe Nazi war criminals should be receiving Social Security.
Reps. Sam Johnson (R-Tex.) and Xavier Becerra (D-Calif.), the top two members of the House Ways and Means Subcommittee on Social Security, are also preparing similar legislation in the House.