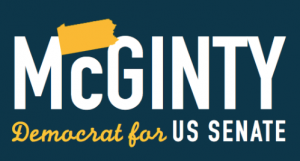 Ever since the FBI walked into Allentown City Hall and ended Ed Pawlowski's Senate hopes, Katie McGinty has been the new Democratic hope to fill the role of alternative to Joe Sestak.
Since then, the Inquirer has reported that national Democratic leaders and Congressman Bob Brady have encouraged the Governor's Chief of Staff to run.
John Sharpless, however, was ahead of all them when he created the "Draft McGinty" campaign last month. He set up a Twitter account and even uploaded a DIY video to YouTube.
https://www.youtube.com/watch?v=k0CAyxoNt3k
"It's no secret that within the party, and not just within the party, there has been an outcry for a leader of the future," Sharpless told PoliticsPA when asked why he created the movement.
Last year, Sharpless was a Tom Wolf supporter in the gubernatorial primary. He was impressed, however, by the way McGinty conducted herself during that contest.
"After it was over, there were two winners," he asserted.
Sharpless described the two goals of the initiative as: "1. Create some energy among the base. 2. Prepare people for a unifying candidate."
McGinty is a much more electable candidate in his eyes than Joe Sestak.
"Sestak simply can not win this seat," he said. "Pennsylvanians vote for the most likable candidate that they trust. That's where Joe Sestak drops the ball."
Throughout the conversation, he described what he saw as a complacency in the Democratic Party. In his opinion, Democrats are just assuming that with Hillary Clinton atop the ticket, any Senate candidate will prevail.
Several times during our conversation, Sharpless noted that this strategy didn't work for 2000 Senate nominee Ron Klink and 2004 Senate nominee Joel Hoeffel, who lost to Senators Rick Santorum and Arlen Specter respectively.
In contrast, he feels a ticket combining the potential first female President with the potential first female Senator from PA would be much more effective.
Finally, he raised the spectre of Joe Sestak on the national stage at the 2016 DNC in Philly.
"I don't think anyone wants to see or hear what that would be like, except Joe Sestak."
Sharpless is currently working with a handful of other supporters and says some local party leaders and environmental activists have reached out to encourage him.
As for the future, there's been discussions of rallies, fundraising and additional videos. For the most part, though, they're waiting on Katie McGinty to give a definitive answer.
Just like the rest of the state.