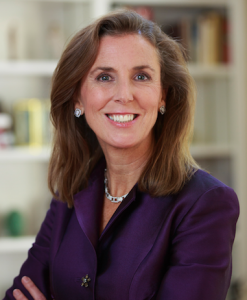 Katie McGinty, unlike any of her competitors, seems to love campaigning.
Senator Pat Toomey seems more interested in policy. Braddock Mayor John Fetterman's passion is governing his small town. Former Congressman Joe Sestak appears to just need the adrenaline from knowing their is a task ahead to complete.
McGinty, though, is one of those Happy Warriors who is perfectly at home shaking hands and saying hello to every person roaming the halls of the Hershey Lodge.
In fact, that's why our interview was so short. It's difficult to get around when you're giddy to greet and catch up with everyone you see.
It reminded me of a moment during the previous day's forum. The second it was done, McGinty immediately turned to the dour Joe Vodvarka sitting beside her. Most establishment candidates (and whether he likes it or not her endorsement haul makes her the establishment's candidate) wouldn't want to spend an extra second near such a gadfly. Yet McGinty extended her hand and said something that had Vodvarka laughing almost instantly.
That episode epitomizes the struggle for McGinty, she is exactly what people have traditionally sought in a political candidate at a moment in time when political traditions seem unusually imperiled.
Eventually, though, we made our way to a bench at the end of a sparsely populated room and began our conversation.
Why Legislative Office?
Given McGinty's experience in the executive bodies like the Clinton White House and Governor Wolf's Administration, as well as the generally gridlocked nature of legislatures, I began by asking why she was seeking a seat in the Senate.
"The issues are so important", she explained citing education and healthcare before diving deeper into the question with a popular Teddy Roosevelt quote.
"I've been fortunate in my life to be in the arena. In Washington and in Harrisburg, working with Republican legislatures and have just been able to get enormously important things done," she continued. "At this critical time, when we need people who share the values of giving working families and the middle class a shot and a track record of getting things done. That's a critically important combination and I think I bring something to the table on both of those counts."
McGinty went on to cite her experience with working with the other side, going back to the post-Gingrich Revolution Republican Congress.
"I have a track record of having found common ground with Republican members of Congress to make major initiatives happen," she asserted.
Renewable Energy
Senator Toomey and the Republican Party have gone after McGinty more than any other Democratic candidate, which suggests she is the one they most fear. The issue they've repeatedly hammered her on is her record on energy and the environment. In light of that, I queried about her views on energy and whether the "all of the above" policy best reflected her views.
"The smartest energy policy starts with energy efficiency," McGinty responded. "For me then, it's about renewables and our opportunity to have good manufacturing jobs in building renewable energy equipment."
She also called for having "a strong environmental cop on the beat" to protect against any harm new energy production might bring to the environment.
When I asked if wind and solar energy should be prioritized over other forms she dodged the question and emphasized increasing efficiency so as to lessen the chance for future environmental hazards.
Supreme Court
As with fellow Democratic hopeful John Fetterman, I asked McGinty which past Supreme Court Justices she looks on as model members of that body.
She bypassed that question and went after Sen. Toomey for his stance opposing any nomination by President Obama.
"First of all, I think it is imperative that our current Senator Pat Toomey do his job and his constitutionally mandated responsibility to give a full and fair hearing to a presidential nominee for the Supreme Court."
I interjected at this point, bringing up Sen. Toomey's comment that it's not "that big a deal".
"He's just straight out about partisanship and the ideology of the Court," she contended. "Well, the Court should be beyond ideology. It should be about the fair and objective interpretation of the Constitution and the law and that's it. Instead Pat Toomey wants to make the Court an ideological arm of the Republican Party and that's not right."
McGinty also cited the rights to privacy, clear air and water and the threat of post-Citizens United campaign financing as important factors to consider when voting on a Supreme Court Justice.
When I extended the question to current Justices and asked if she had a role model, McGinty identified Justice Ruth Bader Ginsburg.
Trade/TPP
The one true issue that divides Democrats nationwide is trade but we've heard little about the issue at any of the Democratic debates. As a result, I brought up the Trans-Pacific Partnership and inquired into her feelings on trade overall.
"My top focus is rebuilding the middle class and that means we need jobs in this country that are good-paying jobs and family-sustaining jobs. Even the proponents of the TPP say it will cost us 50,000 jobs a year, that means to me it's not a good deal for us."
I countered with the proposition that as a Senator one must weigh the potential foreign policy/national security benefits against the internal economic costs.
"I understand what you're saying but I would come at it a little differently," she responded. "Because I think, in terms of foreign policy, we are as strong abroad as we are at home. Our allies won't have confidence in us and our enemies won't respect us if we have the kind of declining incomes and economic chasm that we've seen in the United States. And so, to the extent we want our allies to know they can rely on us and our enemies to know they need to be afraid of us, we need to have a strong economy, strong working families and strong communities in the United States."
"So, that's the core-" I interjected.
"That's, that's the core, that's the core, for me," McGinty said in her most passionate moment of our short session.
Foreign Policy
McGinty then transitioned on her own to foreign policy and how to defeat ISIS, advocating for cutting off their resources which serve additionally as their revenue sources. She also took the opportunity to once again criticize the man she hopes to beat in November.
"Here's a guy who was all for the Iraq War. Here's a guy who's all about beating his chest that we're not tough enough on ISIS except for here's a guy who's sat for a year and a half and done nothing when the President has had a request pending for a declaration of war against ISIS."
"This is the AUMF?," I sought to clarify.
"Yeah, the Authorization for the Use of Military Force, which is a declaration of war against ISIS. And here's a guy who's done nothing while one of the leading experts in the world has been nominated by the President to be Assistant Secretary of the Treasury, focused on cutting off terrorism financing and this Senate has sat and done nothing."
"You think he's shirking his responsibility on that?"
"Yeah, I mean, look stop talking and get to work in Washington doing the job you were hired to do. Which is to consider the President's Authorization for the Use of Military Force and consider the President's nominee for this critical position."
McGinty went on to hit Toomey for voting against closing "the terror loophole on guns" which would've prevented those on the terrorist watchlist for purchasing firearms.
"Pat Toomey thinks that's perfectly fine, I think that's perfectly outrageous," she stated.
She then turned to the question I posed earlier.
"Either he shirks his responsibility or he does things that are decidedly hurtful to the people of the commonwealth and this country."
At this point, our conversation was winding down. McGinty had to do another interview and people were crowding around hoping to get their picture taken with the candidate. I concluded by noting that she seemed to already have her general election argument down pat.
"So Pat Toomey is a combination of either not showing up for work or showing up in a way that is decidedly hurtful to the people of Pennsylvania and the country as a whole," McGinty proclaimed. "That's my story and I'm sticking to it!"