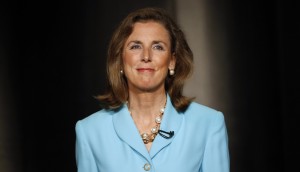 The McGinty campaign has accepted invitations to two fall debates with Sen. Pat Toomey.
Both debates will be broadcast on TV, with one taking place in Pittsburgh on KDKA and the other occurring in Philadelphia on WPVI (Pittsburgh's CBS affiliate and Philly's ABC station).
"After months of Pat Toomey ducking and dodging from questions about his pro-Wall Street economic policies and his loyalty to Donald Trump, Katie has decided that enough is enough.  That's why she's challenging Pat Toomey to two, major, televised debates that will be seen by Pennsylvanians all across the commonwealth," McGinty Campaign Communications Director Sean Coit stated.
"If it were up to Pat Toomey, he'd much rather continue to campaign in the shadows and avoid talking about his pro-Wall Street economic policies and his support for Donald Trump, but that's not going to happen," Coit continued. "Our campaign is eager to set dates for these two general election debates with the Toomey campaign and ensure that Pennsylvanians across the commonwealth know the stark differences between Katie and Pat Toomey."

PoliticsPA reached out to the Toomey campaign but have yet to receive a response.