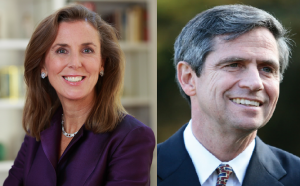 It's tough to win a battle with dissension in the ranks.
One of the biggest political stories of the past few years was the regret Republicans felt after the 2010 and 2012 elections, where contentious primaries and lackluster candidates arguably cost them the Senate majority.
A concerted effort was made to fix these problems and last year the GOP finally won the upper chamber of Congress.
Now, however, the Democrats are the ones facing numerous splintering primaries that could hamper their efforts to win back the Senate.
In a new piece from Jennifer Steinhauer of the New York Times, she takes a look at the various Democratic Senate primaries taking place throughout the nation.
One of those battles is right here in the Keystone State.
"Establishment Democrats are viewing Mr. Toomey with the longing of a lion staring at a wildebeest," Steinhauer writes.
She also notes that Pennsylvania is unique in that the McGinty-Sestak primary is less about ideology than personalities. To put plainly, many Democratic leaders don't like Joe Sestak.
"It's not like this is groundswell from the bottom up to find an alternative," Terry Madonna told Steinhauer. "It was top down."
Currently, the balance of power in the Senate is 54 to 46 in favor of Republicans. Thanks to their victories in 2010, however, the GOP has to defend 24 seats in 2016 compared to just 10 Democratic ones.
Furthermore, none of the Democratic seats are in states Mitt Romney won in 2012 while six Republican seats are in states Barack Obama won that year (Florida, Illinois, Iowa, New Hampshire, Ohio, Pennsylvania and Wisconsin).
Nevertheless, in addition to PA, competitive Democratic primaries are expected in Florida, Illinois and Ohio.