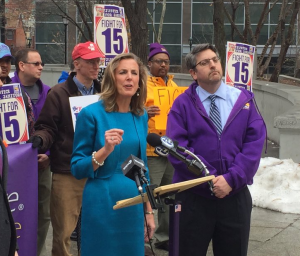 Katie McGinty, Democratic candidate for Senate, today gained the support of the Services Employees International Union.
"I am honored to have the support of SEIU which represents hundreds of thousands of workers across the country, including 80,000 workers in Pennsylvania," said Katie McGinty. "As the daughter of a police officer and a restaurant hostess, I have the utmost respect for hardworking women and men who give it their all to provide for themselves and their families. No one working full time should live in poverty in this country, which is why I fully support SEIU's "Fight for $15" campaign for a living wage. SEIU and I are also dedicated to ensuring access to affordable and quality healthcare, universal pre-K, increasing college affordability and protecting Social Security and Medicare. I look forward to working in partnership with SEIU to give workers a fighting chance."
"No candidate in this race is as committed to standing with working families as Katie McGinty," said Neal Bisno, President of SEIU Healthcare Pennsylvania. "She has marched with hospital workers fighting for good jobs, has been a champion for homecare and nursing home workers, and was the first candidate to announce her support for raising the federal minimum wage to $15 an hour. She is a proven leader who will work to grow the middle class, ensure access to quality, affordable healthcare and education, and expand job training programs. The nurses and healthcare workers of Pennsylvania are excited to help make Katie McGinty the first woman U.S. Senator in the history of our state!"
McGinty has won the support of Governor Tom Wolf, elected officials. state and local groups including labor, women's advocacy and environmental organizations.
McGinty is running against former Congressman Joe Sestak and Braddock Mayor John Fetterman in the Senate Democratic primary. According to a recent Franklin & Marshall poll, the race is still up for grabs.