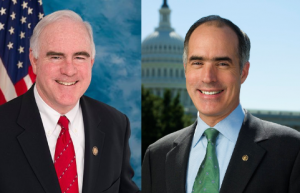 Congressman Pat Meehan (R-Delaware) decided he will not run for the U.S. Senate seat currently held by Democratic Senator Bob Casey.  
Republican operatives at this weekend's state committee meeting had the news. On Saturday, Meehan's spokesman confirmed it.
"He believes, at this time, our region is best served by him remaining in the House and focused on the legislative opportunities ahead," John Elizandro said in a statement to PoliticsPA.
Meehan's name had circulated for months as a possible challenger to Casey.  His popularity in southeast Pa., profile on the Ways and Means Committee made him a top GOP recruit for the seat. He's also a proven fundraiser. He entered 2017 with $1.9 million on hand – enough to launch a serious statewide bid.
Part of Meehan's decision came down to his position in the House of Representatives.  
"Rep. Meehan's seat on the influential House Ways and Means Committee enables him to play a critical role in the most important coming legislative debates: health care, tax reform and trade," Elizandro said.  
The news was first reported by Jonathan Tamari at the Philadelphia Inquirer.
Currently, State Representative Rick Saccone (R-Allegheny) is the only person floating their name around to challenge Casey.  Casey is thought to be one of the main targets for national Republicans, being a Democratic Senator in a state Trump won. But so far the GOP has lacked a candidate to make it a marquee national race.