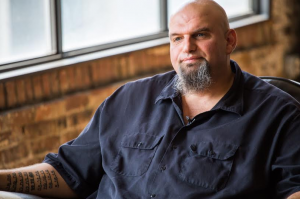 Former presidential candidate Martin O'Malley has endorsed John Fetterman's Senate campaign.
The ex-Governor of Maryland particularly praised the Braddock Mayor for his immigration policies.
"I believe that our outdated and inhumane immigration laws no longer meet our economic needs, our national security imperatives, or most importantly, our values as a people," O'Malley wrote in an email to supporters. "I believe that we need to lead with the compassionate message and actions that have made us who we are: a nation of immigrants, bonded together by our diverse beliefs and traditions. Immigration is what has made America, America."
"We need leaders in Washington who will tirelessly stand up to the kind of hateful, misguided rhetoric we've seen thrown at the millions of New Americans and fight to forge consensus on an issue that has shaped this country," he continued. "I believe Braddock, Pennsylvania Mayor John Fetterman is that kind of leader, and that's why today, I am endorsing his campaign for U.S. Senate in Pennsylvania. He really needs our help, so click here to join his progressive campaign."
Fetterman's wife Gisele emigrated from Brazil, a story that was told in by a campaign video from last November.
This is not the Mayor's first experience with a non-Hillary candidate as he endorsed Bernie Sanders for President last month.
Fetterman is running against former Chief of Staff to Governor Tom Wolf Katie McGinty and former Congressman Joe Sestak in the Democratic Senate primary.