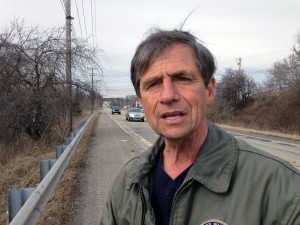 Parades are one of those outdated traditions from previous centuries before the inventions of TV or the internet, when people had to resort to watching other people walk for entertainment.
Nowadays, parades are mostly just a place for politicians to meet as many supporters, undecided voters and hecklers as possible.
For the most part they are usually uneventful (unless you try to lasso an entire press corps together).
Unfortunately for Democratic Senatorial candidate Joe Sestak, however, conservative opponents are using some parade-related accidents to embarrass him.
America Rising PAC, a group of conservative video trackers, caught two separate incidents when Sestak ran into kids during a Fourth of July parade.
The group posted a vine on their twitter page which quickly went viral.
On their website, they titled the video "Watch Joe Sestak (D-PA) Mow Over Several Kids At A July 4th Parade" invoking a kind of Godzilla-like rampage. Both children, though, seem alright.
Sestak is known for his indefatigable style. Earlier this year, he walked the entire length of the state. Coincidentally, several of the stories about that journey mentioned the candidate's relationship with his tracker.
It's unclear whether or not this was the same tracker.