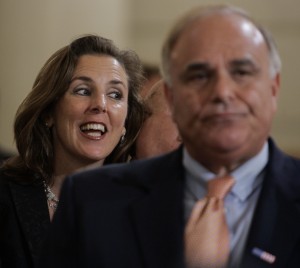 Ed Rendell has found himself at the center of another controversy.
The Washington Post's Dave Weigel wrote a piece today on Trump's appeal to the Philly suburbs. The part getting all the attention, however, are the comments of former Governor Ed Rendell.
"Will [Trump] have some appeal to working-class Dems in Levittown or Bristol? Sure," Rendell said. "For every one he'll lose 1½ , two Republican women. Trump's comments like 'You can't be a 10 if you're flat-chested,' that'll come back to haunt him. There are probably more ugly women in America than attractive women. People take that stuff personally."
Weigel feels the quote is being blown out of proportion.
https://twitter.com/daveweigel/status/732988284104671232
Rendell was being snarky. He quoted one of Trump's remarks on female hotness then made that joke. https://t.co/ica6Bf8rCG

— David Weigel (@daveweigel) May 18, 2016
Republicans, though, are using Rendell once again as a way to attack Katie McGinty, since the ex-Governor is Chair of her campaign.
"Gov. Rendell's comments are offensive, inappropriate, and offer a revealing glimpse into how he views women," Amelia Chassé, press secretary for the conservative America Rising PAC stated.  "Katie McGinty must swiftly condemn Gov. Rendell's demeaning statement and remove him from her campaign leadership, or risk showing her true colors as a partisan hypocrite."
Sabrina Singh, Communications Director for the McGinty campaign, sent the following response to PoliticsPA: "Governor Rendell's comments were completely off-base and inappropriate."
There was no mention of Rendell's role with the campaign, although the McGinty team must be weighing the benefits of his vast political knowledge against the drawbacks of his frequent public relations gaffes.