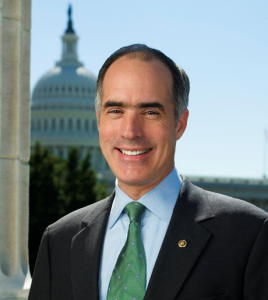 Sen. Bob Casey received a good response from his constituents in a poll conducted last week by Public Policy Polling.
The poll shows Casey has a 43 percent approval rating, while 33 percent of those polled disapproved of the senior PA senator's work in Washington. Casey recorded the highest favorability or approval rating of all the officials PPP surveyed, narrowly beating out Ed Rendell's 42%.
Predictably, Casey draw support from Obama voters (64%), as well as those who describe themselves as "very liberal" (77%) and "somewhat liberal" (65%). The state's senior Senator also pulls good numbers with moderates (45%), although not with independents (34%).
The data also shows Casey has a 60 percent approval rating from African American voters and is one of the few Democrats to have a plurality of white respondents favor his tenure (42/34).
Still, men in general disapproved of the senator – who is in his second term – 44 percent to 42 percent. He still has a healthy 45 percent to 24 percent margin, though, when it comes to women.
Casey's ratings hold steady in the 40%-45% range across all age groups.
Public Policy Polling surveyed 799 registered voters from May 21st to 24th. 80% of interviews were conducted over the phone while 20% interviewed over the internet. The margin of error for the survey is +/- 3.5%.