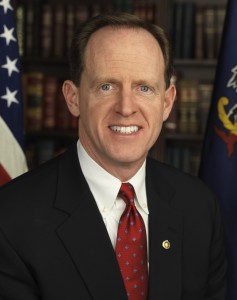 Today is FEC report deadline day so the first reports about third quarter fundraising are starting to emerge.
According to Marc Levy of the Associated Press, Senator Pat Toomey raised nearly $2 million and has $8.6 million cash on hand.
That COH number is only a slight increase from his total at the end of the second quarter, which is the result of the campaign spending about $2 million.
It also appears that the incumbent raised less from July 1st to September 30th than he did from April 1st to June 30th.
Nonetheless he has a wide lead over his Democratic opponents.
Ex-Chief of Staff to Governor Wolf Katie McGinty raised $1 million in her first quarter and has $900K COH. Braddock Mayor John Fetterman brought in $170,000 over the last few weeks.
Former Congressman Joe Sestak has yet to release his third quarter numbers.