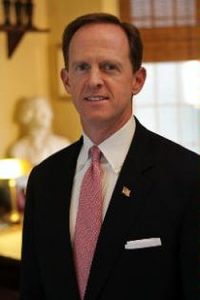 Pat Toomey is hanging on.
That's according to the latest Quinnipiac Poll, which has the incumbent GOP Senator up four points over Democratic nominee, 49% to 45%.
Two weeks ago, Toomey's advantage was eight points. The presidential contest, however, had Clinton ahead by six.
Republicans are standing by Toomey (90/5) while Democrats are mostly united behind McGinty (82/12). The Senator's margin with independents (57/35) made the difference.
McGinty still has the edge, though, with women (48/45) and non-whites (69/21). Meanwhile, men (54/42) and whites (55/40) support Sen. Toomey.
The Quinnipiac University Poll surveyed 660 likely Pennsylvania voters from October 10th to 16th using live interviews from landlines and cell phones. The margin of error is +/- 3.8%.